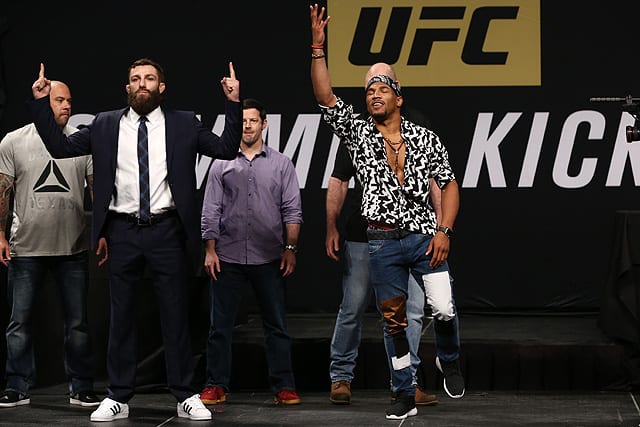 Kevin Lee may have won at UFC Oklahoma — but Michael Chiesa also kind of didn't lose.
While Lee had locked in a solid choke towards the end of the first, Chiesa didn't tap, and was in fact still conscious when referee Mario Yamasaki stopped the fight.
Chiesa immediately leapt to his feet and protested, but the call had been made, and that was the end.
There's no denying things were looking bad for Chiesa. Lee had maintained back control for a prolonged period, before locking in the fight ending choke. However, Yamasaki (a jiu-jitsu blackbelt) failed to make any physical or verbal checks on Chiesa's consciousness before calling the bout.
It could certainly be argued that Chiesa was mere moments from actually falling asleep, the nature of Yamasaki's call — the latest in a string of questionable refereeing decisions — means Lee's victory has an unfair tinge to it.
"I was just trying to gut it out," Chiesa said, post-fight. "I'm not going to share any choice words about officiating, but Kevin Lee, I'm going to see you in December in Detroit."
Was it a legit finish? Kevin Lee with a submission on Michael Chiesa that we'll be talking about for awhile! #UFCOKC https://t.co/mOFBUonnem

— FOX Sports: UFC (@UFCONFOX) June 26, 2017
Kevin Lee comes away with the W with a rear-naked choke against Michael Chiesa. 💪 #UFCOKC pic.twitter.com/YkSO7BgTHh

— BT Sport UFC (@btsportufc) June 26, 2017
"I did whatever I wanted, I was never in any danger," Lee said, post-fight. "It was just going to be four more rounds of that. … [the win] was coming anyway. … I just stopped when Mario told me to."
Unsurprisingly, there were plenty of criticisms directed at the longtime ref, none more so than from UFC president Dana White.
—
Comments
comments