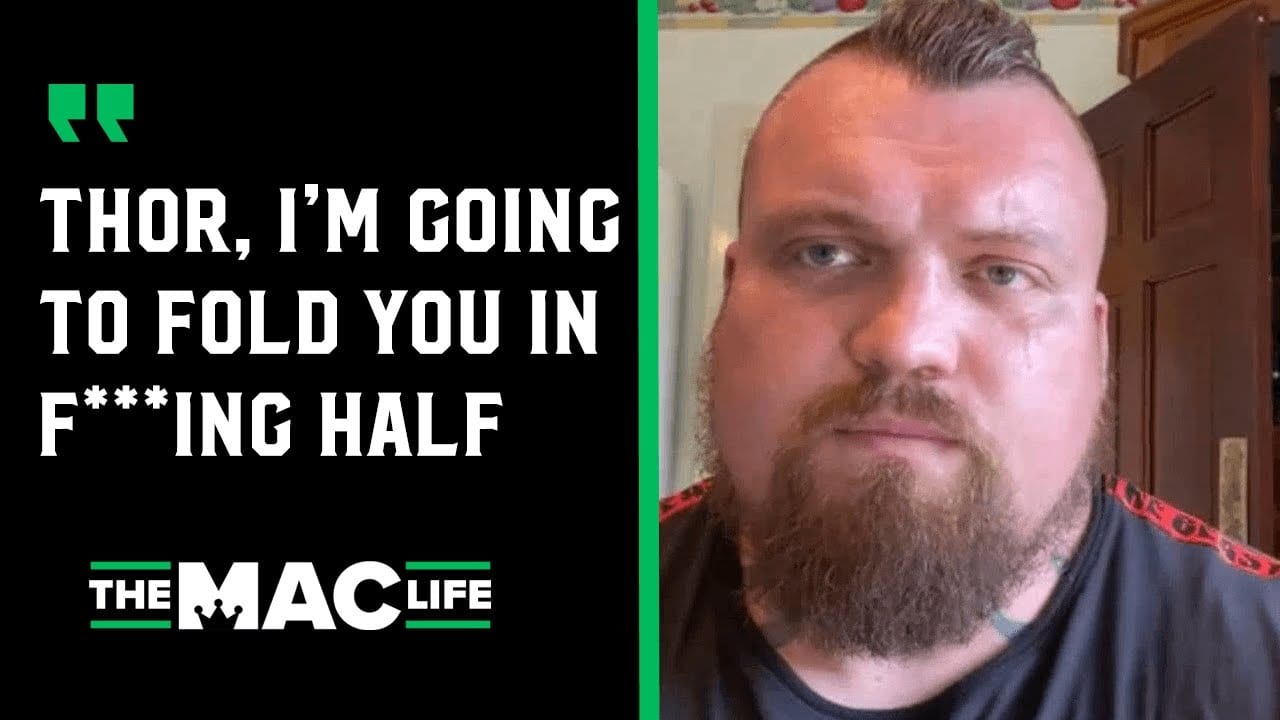 Next year, two of the strongest men to ever have lived will box as Eddie Hall and Hafthor Bjornsson have an opportunity to settle a long-standing issue.
Hall and Bjornsson are globally renowned in the land of strongman competitions, and both have set world records over the past few years. Indeed, their back and forth achievements have seemingly built the duo up above their fellow competitors, and by now the rivalry between the two is firmly entrenched.
It's because of that rivalry that they'll leave the world of big lifting and into that of heavy swinging.
While fans might scoff at the idea of outsiders coming into the world of pugilism — something we've seen recently in the form of YouTuber's KSI and Logan Paul — Hall wants to note out there are vast differences.
The crux of the issue with Bjornsson, Hall says, stems back to controversy at the World's Strongest Man competition in 2017 over a judge's decision to rule out a Bjornsson lift. Ill-feelings over that day now run so deep, it has ruined an amicable relationship to the point both now find each other unbearable.
"I'm still yet to have an apology," Hall said, speaking to TheMacLife. "And I'm still yet to hear Thor accept that the last repetition on his Viking press was as it was. Anyone wants to watch that footage and make their own judgement, please feel free. … That's the bad blood. We absolutely fucking despise each other. Beyond belief. If he was on fire, I wouldn't piss on him. Put it that way."
It's not the first time two celebrities have toyed with the idea of meeting in a boxing ring, and indeed it's hardly rare for two well-known popstars or the like to suggest a bout whenever they feel aggrieved.
The difference between those braggadocious contests comes down to the fact that Hall and Bjornsson are inarguably top tier competitors. With that in mind, perhaps fans should appreciate the fight as an athletic endeavour rather than a meeting of well-known faces to just make money.
"Me and Thor — I know Thor's mindset, I know my mindset — we're going to train for this as hard as we will for the World's Strongest Man," Hall said. "We've got 15 months to get fit. I believe it's going to be in the region of, we haven't really talked about this yet but I think it's going to be something like 8x three-minute rounds. Something like that. 10 ounce gloves. Proper boxing rules.
"I think that's important. If we start reducing the rounds, if we start improving the size of the gloves and whatever, we lose the respect of the boxing community. And that's something I've said since day one since I signed the dotted line on the contract and before we even started talking about this, is no matter what we must respect the sport of boxing. For that reason, I think we deserve a bit of respect back.
"We are two top-level athletes, we both won the World's Strongest Man, we both know what we're doing in terms of recovery and looking after our bodies and being fit and being productive in whatever we put our minds to. So I think we're both going to come into this boxing fight.. not nowhere near the level that a boxer would be, but if we walk in as high-level amateurs, I wouldn't be scared to say that. That's something I'm fairly confident in. I'd walk in and I'd handle any amateurs quite easily. That's where I want to be."
The two will meet in the ring in September next year. And, while the world is left perennially uncertain with the coronavirus, Hall is sure of one thing.
"It's easy for me, I know I'm going to win because I'm that kind of guy," Hall said. "I know that I'm going to give it my all and if I'm confident, then you're fucked. Like I was confident at the World's Strongest Man 2017. I walked into that arena, flew into the country, I'd already spent the prize money. God's honest truth. That's going to be my mindset for this fight.
"I'm going to leave no stone unturned, and like I said, if Eddie Hall is confident he's going to beat you, you better turn the other way and fuck off because I'm going to fucking beat you. That's my message to Thor. You can come in all guns blazing, you can think the reach advantage that will get the edge on me. It isn't, it really isn't. If anything it's going to play in my whole game.
"Thor, this is my message to you. You're fucked. I will see you in September 2021 and I will fold you in fucking half."
Comments
comments