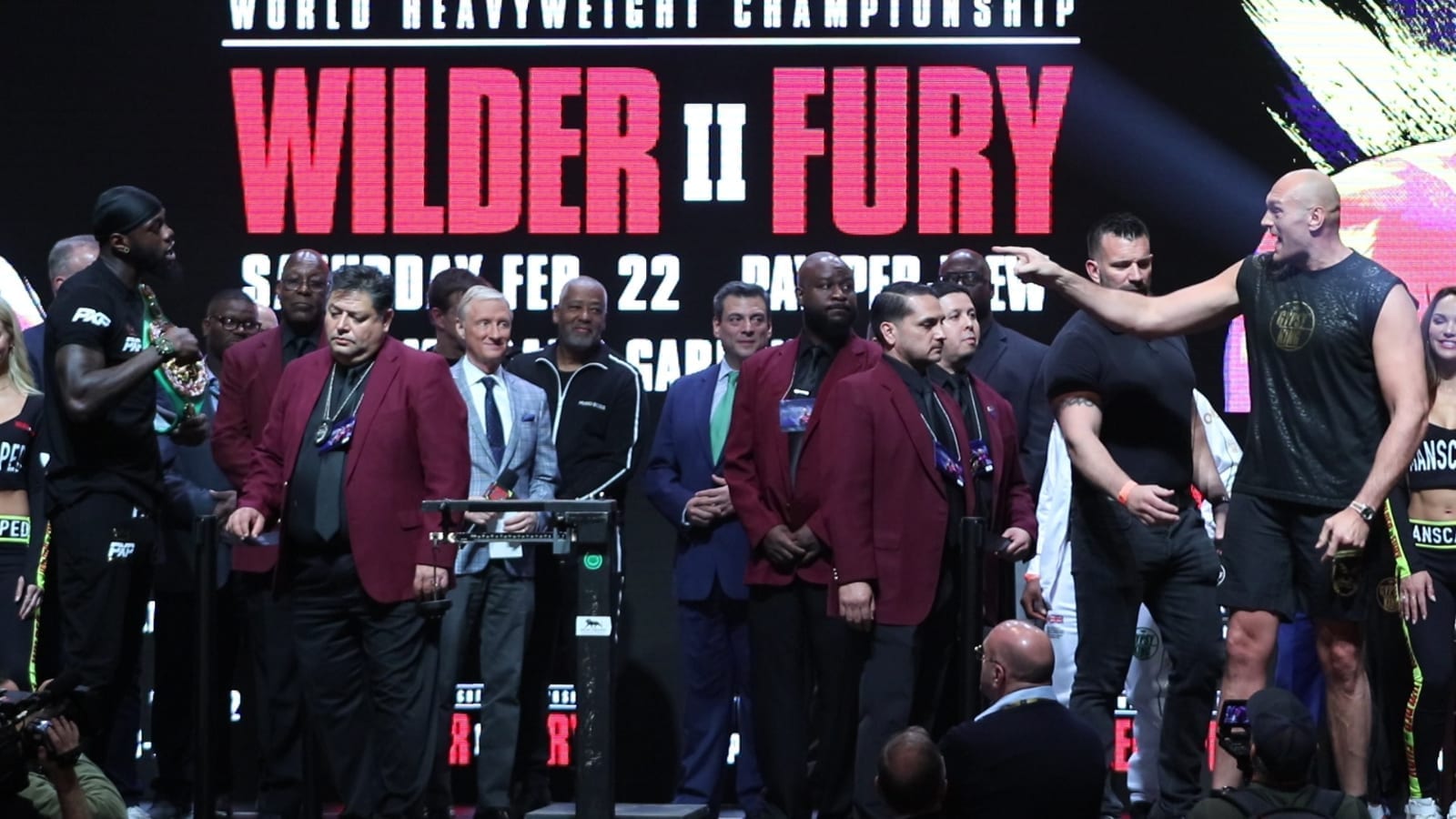 Tyson Fury may have given Deontay Wilder some stick in the past, but he thinks it's about time his rival gets awarded some respect.
Fury and Wilder will meet for a third time in the future to settle their score as the world waits to see if Fury can move on to a megafight with Anthony Joshua. In Fury's mind, due to his two performances over Wilder previously, people aren't treating Wilder with the correct amount of reverence in terms of his position in the boxing world.
Especially, Fury says, considering what Wilder could do to other heavyweight names like Joshua and Dillian Whyte.
"I have got to give it to [Wilder], he has got the bottle. He wanted to fight the best," Fury said, speaking to iFL TV. "While I was out of the ring, retired, he tried to fight Joshua twice. It was going on for ages, we all know that. [Wilder's team] offered $80 million, and I know a few people who saw proof of funds — a few people who I definitely trust. $80 million for a two-fight deal and they refused it.
"I don't think they're going to get any pay-days like that, any bigger than that. I don't know what was going through their minds, but they refused it for whatever reason. Because they were afraid of getting chinned by the Bronze Bomber. I stepped up to the plate, and then I had that rematch clause because I'm a good businessman. I made him pay in the rematch. All respect and admiration to big Deontay Wilder.
"One hundred per cent [Wilder beats Joshua]. One hundred, million percent. Wilder beats Joshua," Fury continued. "Wilder beats Joshua, Whyte, Jarrell Miller. There's nobody who can beat Deontay Wilder. You joking, the Bronze Bomber? One touch from the Bronze Bomber and their faces are gone forever. Good night Vienna.
"Wilder would do to Whyte and Joshua what he did to Dominick Breazeale. Punch them unconscious in round one. They do not have the skills that I have got, can't touch this. Can't be touched.
"I just want to see them fight because they keep calling Wilder this, that and the other, but he will put them to sleep. Easy. Soon as he touches them, they're gone. They've got no defence and they just walk into punches. Big long 1-2's off Deontay Wilder. What are they going to do? Walk him down without a feint, without no footwork? Please. You won't walk a man like that down, he'll punch holes in you.
"They will be 44 and 45 on his record, I would definitely, definitely back Wilder to knock the pair out. For sure."
Comments
comments