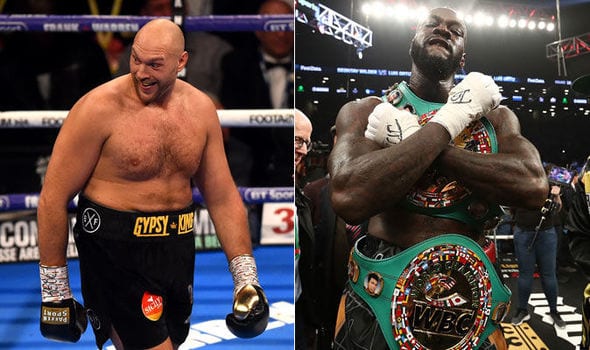 The most anticipated rematch heavyweight boxing has seen in many a year (apologies to Anthony and Andy) is finally official.
Tyson Fury vs. Deontay Wilder II has been officially revealed to take place on February 22 next just days after Wilder's one-punch knockout of Luis Ortiz in Las Vegas suggested that the fight was an inevitability. Tyson Fury, who beat Otto Wallin in September, had told the media that his next fight would be Wilder in February, so long as the American got past his rematch with Ortiz.
Despite losing the majority of the fight (on the imaginary scorecards, at least), Wilder did as Wilder does an uncorked his right hand to the forehead of the Cuban fighter in the seventh and, as has happened in the vast majority of his fights to date, one shot was all it took to have his hand raised.
Fury will likely be bolstered by Wilder's performance as he struggled with the boxing nous of the Cuban until he delivered the fight's final  — and telling — blow. Fury was in a similar position against Wilder when they met in December last year, controlling the majority of the proceedings before being caught twice late in the fight — the second of which prompted his now famous Lazarus-like comeback.
View this post on Instagram

ONE CHAMPION. ONE FACE. ONE NAME. #AndStill #BombZquad #WilderOrtiz2 #PBConFOX
The draw, when it was announced, meant that a rematch was inevitable. The one thing that we don't yet know is where the fight will take place, with ESPN reporting that the MGM Grand in Las Vegas is the most likely host. The fight will be a joint pay-per-view between ESPN, with who Fury's co-promoter Bob Arum of Top Rank has an exclusive deal, and Fox which has a partnership with Premier Boxing Champions who represent Wilder.
"We're going to have an announcement before Christmas, but the fight is happening Feb. 22. You can go to sleep on that," Arum said via ESPN.
"It will all get worked out in early December as far as the site, but the 22nd is the date,"Shelly Finkel of Premier Boxing Champions added. "The site is not 100 percent set, but I'm not concerned about getting the site done. We'll meet about that and about when to make the official announcement, when to have a press conference. These are things that still need to get done."
Both men have fought twice since their meeting last year. Fury defeated Tom Schwarz with relative ease but had a tougher time against Wallin in September, suffering a large gash over his right eye in the process. Wilder, meanwhile, has defeated Dominic Breazeale and Ortiz.
Comments
comments