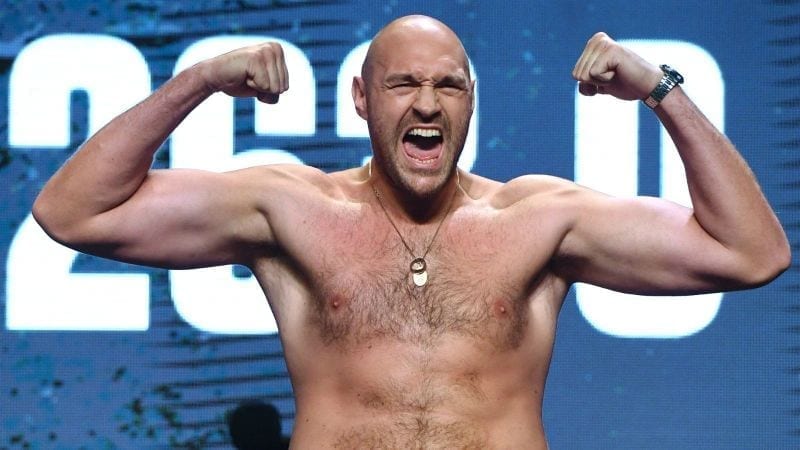 Tyson Fury has revealed there are offers on the table for his mega-bout with Anthony Joshua.
Fury had portrayed an irritated figure over the past few days, regularly posting to his social media in reference to a contracted time limit for his team to find and organise site fees for the unification title fight. Now, however, it seems the 'Gypsy King' has been informed there's money to be had, and he's prepared to listen with interest.
"Just had some big news. Three or four big offers on the table," Fury said in a video posted to his social media. "Interest from Saudi Arabia, my gypsy brothers in Qatar, Uzbekistan, Russia, America, England. There's some big, big offers on the table. I'm going to go through them on Sunday.
"Hopefully we get this big fight on, and let me smash this big dosser. Big, useless dosser, let me say."
Earlier this week, Joshua's promoter Eddie Hearn had aired his own frustrations with Fury and his team, pondering why they appeared to be so negative about negotiations.
"We're out here absolutely grafting our nuts off trying to deliver the biggest fight, and [John Fury's] telling people that there are no offers and there's absolutely no chance, and who's going to put the money up in a pandemic," Hearn said, speaking with iFLTV. We're well aware we're in a global pandemic. We're well aware it's very difficult to do major deals at the moment. Luckily, I'm on it. And I'm grafting away to get this done. And I will get this done.
"So a little bit of positivity, little bit of glass half full mentality, and a little bit of support to make the biggest fight in boxing. … What do you not want the fight? You want to work with us to make this fight or you looking for excuses not to take this fight? Because that's all I hear."
Comments
comments