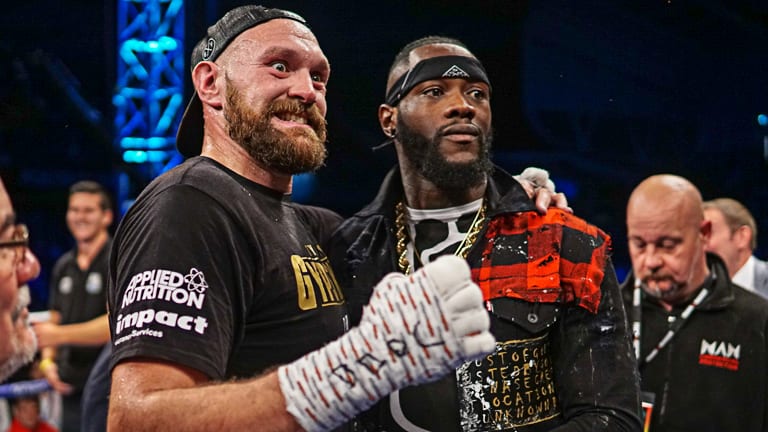 Tyson Fury has made no secret of his apparent new tactics ahead of the Deontay Wilder rematch. After being robbed of a decision win by the judges in the first fight, Fury is adamant he's coming to knock the champion out to avoid a blemish on his record.
While some might speculate that Fury's comments are just what we've come to expect from the brash heavyweight — mindgames to confuse his opponent on fight night — in an interview with Gareth A. Davies, Fury wanted to put aside the jokes for a moment to make it clear. He genuinely believes a knockout is the only way he can defeat Wilder on February 22.
"The only reason I'm with Sugar Hill is because I need a knockout in this fight," Fury said. "If I was looking to nick a points win, I'd have stuck with Ben, polished up what we've done, threw a few more feints, move around the ring a bit more. Hold on a bit more. Hold my hands up a bit more. And that would have been enough. But it ain't gonna win.
"I need a knockout. I'm telling you the truth, I need a knockout. I ain't gonna get a points decision here. And I will not lay down and be robbed in America. They have to fucking kill me in that ring to beat me. I need a knockout. There ain't no convincing me I don't need no knockouts. I need a fucking knockout. He will get knocked the fuck out this time.
"The thing is, he's going to have to kill me in that ring to be on that night. Because I won't stop coming forward at him. There you go. I ain't lying. I ain't going in there to box and move, I'm going in there to seek and destroy. That's it. I'm six foot nine, I'm nineteen stone. I got 20 knockouts out of 29 wins. I can crack as hard as anybody. I'm going to hunt him down. And it's either going to be him or me. It can only go two ways. Either I get chinned or he gets chinned. Whoopdeedoo, Basil."
–
Comments
comments