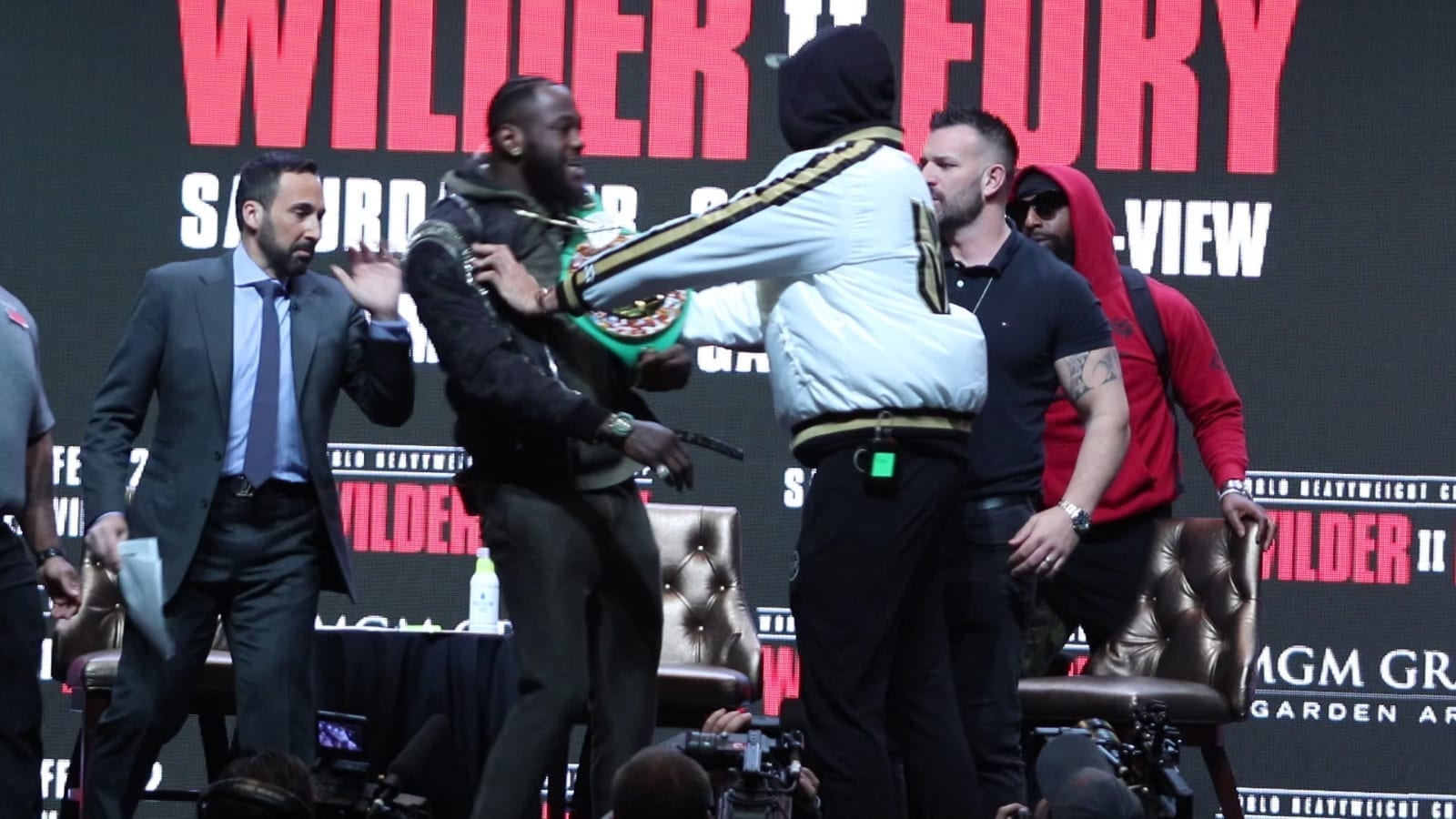 Tyson Fury has reacted with bemusement to former opponent Deontay Wilder's increasingly odd excuses for losing their bout earlier this year.
Fury won the WBC heavyweight championship from Wilder after stopping him in the seventh round when Wilder's coach Mark Breland threw in the towel to bring an end to a one-sided drubbing. Since then, Wilder has pointed the finger at a number of reasons as to why he lost, with the notable exception of acknowledging Fury was the better man on the night.
The two were set to fight for a third contest, only for a contract clause to expire leaving Fury to move on and find an alternate opponent.
"Yeah, the original date was July 18th. That didn't happen because he had an injury. Then it was October but that didn't happen because they couldn't get a venue that suited everybody. Then they had three dates in December – 5th, 12th and 19th – which I agreed to. That obviously didn't happen. I'm not going to wait around forever. I've got my own life," Fury said, speaking to Gareth A. Davies.
"I agreed to every date they said. Every date that was mentioned, I agreed to. It's not worth me looking at it now. It's over. Deontay Wilder has tried to bring my character down with the bullshit he's said. If I was like the rest of the world, I'd probably sue him for defamation of character for about a hundred million. But considering I'm not, I'm not really interested in doing that type of thing. He'll never get a shot at me now. Finished. For what he's said — Losing is one thing. Everbody can lose to a better man on the night, but to come out with the amount of BS that he's come out with over the last eight months. He's conveniently waited until the contract expired before he's opened his mouth. It's ridiculous and I don't really want to give him any air time. That's it for the Bronze Bomber."
As far as the excuses, Wilder's offered, Fury appears to not have much to say other than genuine confusion.
"I think he's lost his marbles," Fury said. "First of all it was the suit, then it was the bicep injury, then his trainer was on our team, then the referee was against him, then I had weights in my gloves, now someone's spiked his water. It's one of those things. It definitely is defamation of character. For sure. It is what it is. I'm quite concerned for his mental well being, to be fair, rather than his boxing career. That's gone.
"Some people can't take loss. Imagine being undefeated for 12 years as a professional, ten [title] defences, and you were told you could beat this guy and he's come back after three years out of the ring, ballooning up in weight, and given you a boxing lesson? And then absolutely annihilated you in the rematch. So, would I be the same? No, I'd say right, I lost to a better man, fair play. AJ got beat by Ruiz and he didn't make a million excuses. He just said 'fantastic, well done'. Suppose it's different sportsmans for different places. It's up to him what he wants to do."
–
Comments
comments