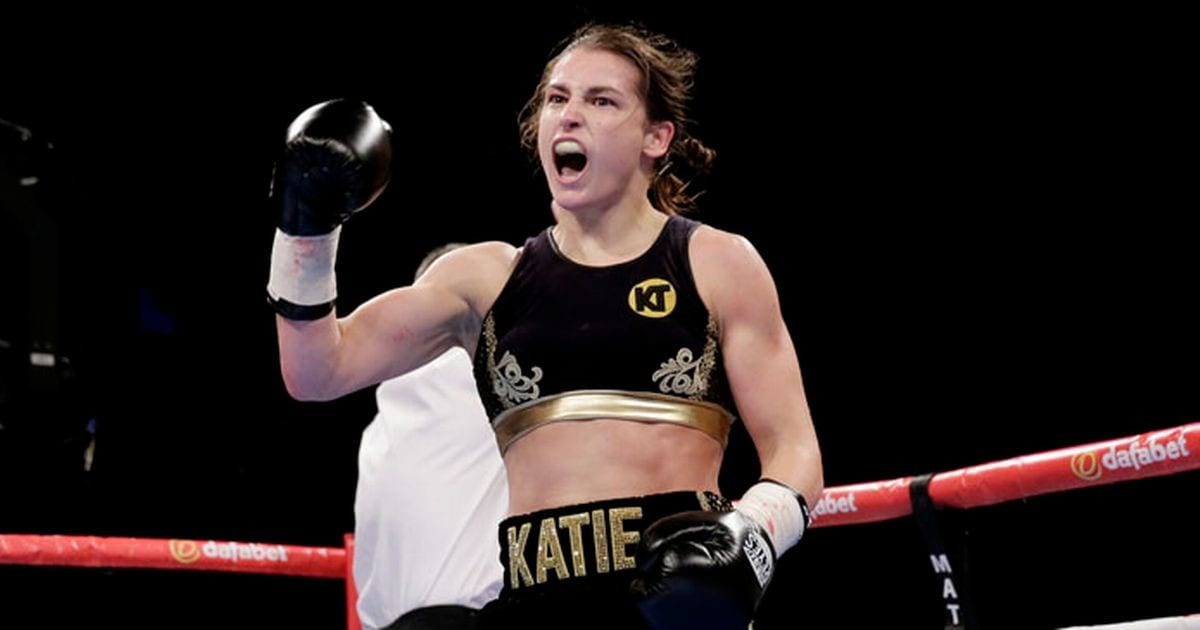 Katie Taylor's list of accomplishments is not a short of one.
The Olympic gold medalist has parlayed one of amateur boxing's most successful runs in a generation into a collection of belts in the professional ranks which stands her alone as the best lightweight fighter on the planet. Taylor will take on her latest challenge on Saturday night in Leeds when she takes on Jennifer Han as she pursues what will be a 19th professional win.
But as Eddie Hearn puts it, Taylor's quest to challenge herself isn't even close to over.
"But when you look at Katie's future: Yes, there are these mandatories to take care of. [Jessica] McCaskill is here; if she fights McCaskill she'd be a two-weight undisputed world champion which would be nice," said Hearn to Gavan Casey of The42.
"The Amanda Serrano fight is a must-make fight. That's the biggest fight in women's boxing by a country mile. That's a fight that could headline Madison Square Garden — but we've got to get it over the f*cking line. And it's so difficult to do. To be fair to Amanda Serrano, her value has increased significantly since we first negotiated that fight."

Serrano once again threw down a gauntlet to Taylor last weekend when she fought in the co-main event of the Jake Paul vs. Tyron Woodley fight card, with the Puerto Rican claiming her 41st career win against Yamileth Mercado.
"It's a bit like when we were talking about doing AJ (Anthony Joshua) against Fury initially," Hear explained. "This is a fight that, in my opinion, was a 70:30 split (in Joshua's favour). But Fury goes over; beats Wilder, really, in the first fight; knocks him out in the second fight, so we turn around and go, 'Fair enough — it's 50:50!'
"And I don't think we're there yet with Serrano but we were at a point where it was an 80:20, 70:30 split — and the gap is now closing because of what Serrano has achieved. You have to give her the credit for that. It's not like Katie is going, 'I want 70%!' Or, 'She's not worth that!' Katie don't work that way. But I still want to be sure that she gets a record payday for that fight."
Indeed, Taylor is well-known — if that is the appropriate term — for not being the genesis of mind games, or fight camp insults. And Hearn says that her nature makes her career so enjoyable to oversee.
"She's just the easiest fighter to represent. She'll go back to Bray, she'll have a couple of weeks and then she'll go back to America and she'll just be saying, 'When's my next fight? December?' And I see her having one more after [Han], if she wins, and then we must make Serrano, March or April," he said.
"We'll see who she fights but there's no point in under-selling the Serrano fight. That's the fight we're desperate to make."
And when it all comes down to it, Hearn has one wish for Taylor's eventual exit from the sport.
"But one thing I would love more than anything would be to see her retire undefeated," he said. "I see her probably fighting Serrano a couple of times to be honest with you. If she can win those fights…she still probably won't retire! But I would love to see her walk away at some point, undefeated. That would be tremendous."
You watch Katie Taylor vs. Jennifer Han via DAZN by clicking the banner above, or this link. The undercard is set to begin at 7pm UK time, with Taylor expected to fight at approximately 8.30pm. </em
Comments
comments