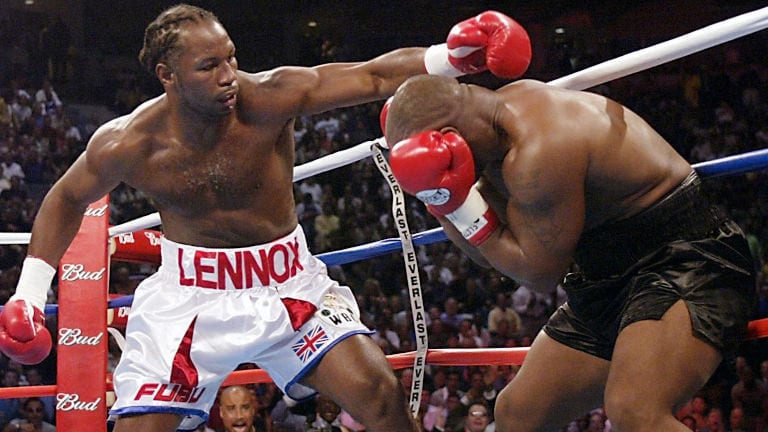 Former world heavyweight champion Lennox Lewis says that last weekend's vintage-themed boxing match between Mike Tyson and Roy Jones Jr. has led to him considering the idea of making his own return to the ring.
Boxing icons Tyson and Lewis fought to a (somewhat bizarre) draw on Saturday night despite Tyson appearing to have done enough to win on the unofficial scorecards, but the public interest in the fight — as well as both Tyson and Jones putting up respectably performances — may well have convinced Lewis to put on his gloves one more time with the intention of settling a score.
"Sure! I mean, it seems like a lot of fun," Lewis told BT Sport when asked about the prospect of his own return. "You have to look at Mike Tyson; Mike has been doing a lot of different things like wrestling, he's been doing acting and he even had his own one-man band show.
"So he knows how to entertain people, he knows what to do in these situations."
View this post on Instagram
But rather than any potential Lennox Lewis comeback being against Tyson, Lewis instead has targeted another former rival: Riddick Bowe. Lewis defeated Bowe in the 1988 super heavyweight Olympic final but despite appearing on a collision course in the professional game, the rematch never came to fruition.
But it is better late than never, according to Lewis.
"When I was commentating for HBO, they had me put in there right in the action," he said. "It was maybe to make me feel like I could come back for HBO whatever. But I just never caught it, it never happened. I looked at the history of why boxers come back and most boxers come back because they have nothing else to do.
"People keep coming up to them and saying to them, 'Hey, when is your next fight? Who are you going to fight?' But it doesn't do better for them, it makes them look bad. So I always elected to stay away from that. But, if it is right, I may come back. There's been talk of Riddick Bowe wants to fight me still so there is still some unfinished business there."
Comments
comments