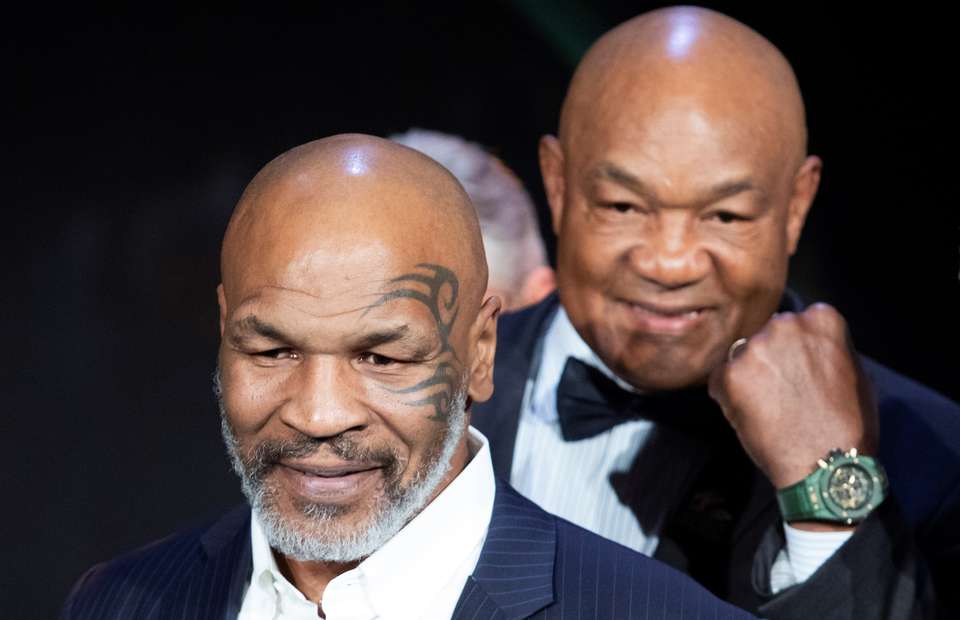 George Foreman knows a thing or two about unlikely world title wins. 
Back in 1994, the 45-year-old Foreman won the WBA and IBF heavyweight titles when he knocked out the then-unbeaten Michael Moorer in the 10th round of their fight — the first time that Foreman had held recognised world titles since his infamous defeat to Muhammad Ali at the 'Rumble in the Jungle' some 20 years prior.
Foreman's win remains one of the biggest underdog stories in the sport, given that oddsmakers gave him little chance of regaining his status as a world championship fighter — and Foreman says that he thinks this feat can be repeated by Tyson, despite 'Iron Mike' being 9 years older than Foreman when he defeated Moorer.
"If he gets in shape like he's in now, and then gets his timing back, and all the other things fall into place, he can have an opportunity to fight for the title," Foreman told USA Today. "f he can be managed right, a champion, the right champion, will come to him. And if the right one comes, he can knock him out."
View this post on Instagram
These comments come after Tyson's Saturday draw with Jones in a fight which reports say generated an impressive 1.5 million pay-per-view buys globally, indicating that significant interest remains in Tyson, one of the sport's premier heavyweights of his generation. Fight fans appeared unsure of exactly what to expect from the returning fighter, but Foreman says he saw enough to know that Tyson remains a threat to the heavyweight division.
"Tyson looked great," Foreman said. "He really did. And Roy Jones had to use every old skill out of the book to keep himself from being knocked out. "I just couldn't believe what I saw.  And that was just an exhibition. Just think if (Tyson) had some activity the last two years. He'd be in line to be the champion of the world again at 54, 55.'
"You have to have a really good manager to navigate you who to fight and who not to fight," he said. "But if he gets someone who can do some creative moves, he can be in the big time quickly.
"What impressed me most, he missed a lot of shots," Foreman said. "He found himself out of position. He recaptured it and got back on track. Roy Jones had him confused the first round or two, and he fought through that. That impressed me more than anything he did. Keeping his mind in the game. He almost lost his cool a couple of times and he patted (Jones) on the shoulder and let him go."
Comments
comments