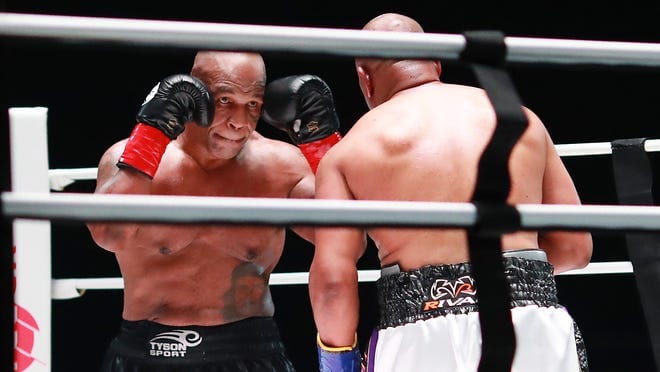 Mike Tyson remains one of the biggest names in combat sports.
The former heavyweight champion returned to boxing after a 15-year retirement on Saturday, going to a draw with Roy Jones Jr. in an exhibition bout that went eight rounds. According to Triller, the social media platform that hosted the event, it was an exceptional success both in the ring as well as out.
Per Triller's Ryan Kavanaugh, who spoke to Manouk Akopyan of the LA Times, Tyson vs. Jones Jr. garnered nearly 1.6 million buys on pay-per-view, making it one of the top ten events in boxing history.
Triller's Ryan Kavanaugh tells #TysonJones has exceeded 1.59 million PPV buys, which would rank the PPV in the top 10 boxing events of all time.

More PPV buys will still be tabulated in coming weeks.

Triller reportedly paid $50 million to land the rights to the fight.

— Manouk Akopyan (@ManoukAkopyan) December 2, 2020
It's a stunning number for Tyson, who looked great despite his age against Jones Jr., and with his promise of competing again in more exhibitions in the future, looks like a phenomenal business venture for the 54-year old.
While it's unknown when or where Tyson will compete again, the who could be former rival Evander Holyfield, who released a press release yesterday demanding Tyson meet him in the ring again.
"Roy Jones was a good local opponent for Mike," Holyfield said. "But a fight with me would be a global event and the only fight that anyone wants to see is a fight between us. There is absolutely no reason why we shouldn't make it happen. No more excuses. This is the fight that must happen for both our legacies. Saturday night you said you were ready to fight me, so sign the contract and get in the ring, Tyson. The world is waiting and it's on you now. I'm ready."
Comments
comments