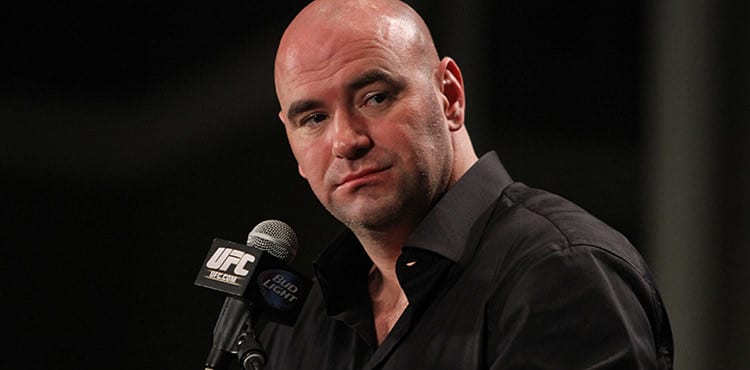 When UFC president Dana White went onto the UFC Unfiltered podcast and announced the UFC would be doing away with early morning weigh-ins, there was bound to be a differing of opinion.
The decision has come after a series of high profile weight misses over the past few months, including names like Darren Till, Mackenzie Dern, and Kevin Lee. According to White, while the early morning weigh-ins, which usually take place between 9am-11am, started in good faith, the desire by fighters to gain an advantage means it's no longer feasible.
"We're looking at taking the weigh-ins back to the way they used to be," White said. "So when the guys weigh in there at the fight, that will be it. That'll be the real weigh-in.
"I believe that any time you change something, everybody looks to take as much advantage as they can of the situation. And I think that when we started doing morning weigh-ins, it was very good. Everybody was making weight. Everything was great. But then people kept cutting it closer, and closer, and closer, thinking they can put on more weight because they have more time to recover.
Naturally, his words garnered a reaction online, particularly by the names who'd have to deal with the changes.
Early Weigh inns were the best thing to happen to this sport . You are either accountable or Not . Missing weight has nothing to do with the structure is has to do with the individual. 🤦‍♂️ #baddec #makeweight

— Eddie Alvarez (@Ealvarezfight) June 5, 2018
Proper weight cuts start months in advance not the week of the fight , We sign contacts wayyyy in advance and are told the requirements . If You miss Its Your Fucking Fault !!!!!!!

— Eddie Alvarez (@Ealvarezfight) June 5, 2018
Not the structure, not the hot tubs , not the suanas, not the meal prep guys , not the UFC , not the plane ride . If You miss weight it's All Your Fualt . Why are we blaming the system ??????? Please help me here guys

— Eddie Alvarez (@Ealvarezfight) June 5, 2018
Please bossman @danawhite don't get rid of the early Weigh inns. it won't solve a thing . Your punishing the fighters who are accountable and responsible. #dontdoit

— Eddie Alvarez (@Ealvarezfight) June 5, 2018
100-percent agree. https://t.co/06QjlyXkw6

— The Mane Event™ (@EliasTheodorou) June 5, 2018
How about we get to weigh in all day, early or late, as long as it's before ceremonials. Most fighters seem to want to get it over with as quickly as possible.

— Angela Hill (@AngieOverkill) June 5, 2018
Weight cutting is an inherited culture for many in MMA. It is what is perceived to be "normal" we are in need of an overhaul. Trust me, im confident that in time, just like hard sparring" this WILL change. Education & evolution (+ definitive action) will lead this.

— Marc Goddard (@marcgoddard_uk) June 5, 2018
Noooooooo! 🙅🏻‍♂️👎🏼 https://t.co/4YPlgtFNXX

— Shane Burgos (@HurricaneShaneB) June 5, 2018
Yeah, you want to know why there has been a drastic increase, how about a simple fact like you can't find a sauna open in the middle of the night. So sitting in a sweat box is less available https://t.co/9GyHI495WW

— Big John McCarthy (@JohnMcCarthyMMA) June 5, 2018
It's a huge mistake. Why is it you would change things for the small minority of fighters not doing things right, pushing the envelope of what their bodies can lose and penalizing all of the fighters who do it correctly? Does this make sense to you? https://t.co/nKvWDltUcV

— Big John McCarthy (@JohnMcCarthyMMA) June 5, 2018
Exactly! Because some people can't set an alarm clock now the rest don't get the extra 7hrs recovery? This is not a long term solution and does nothing to discourage big cuts.

— Coach Kavanagh (@John_Kavanagh) June 5, 2018
If more guys fasted maybe they'd make weight 🤔

— Belal muhammad (@bullyb170) June 5, 2018
High School and College Wrestlers make weight 20-30x in a 6-month period and everyone is complaining about PROFESSIONAL ATHLETES who can't discipline themselves to make weight 2-3x a year. The athletes are the problem, not the system. I'm done with this topic.

— Gerald Harris (@GHurricane) June 5, 2018
–
Comments
comments