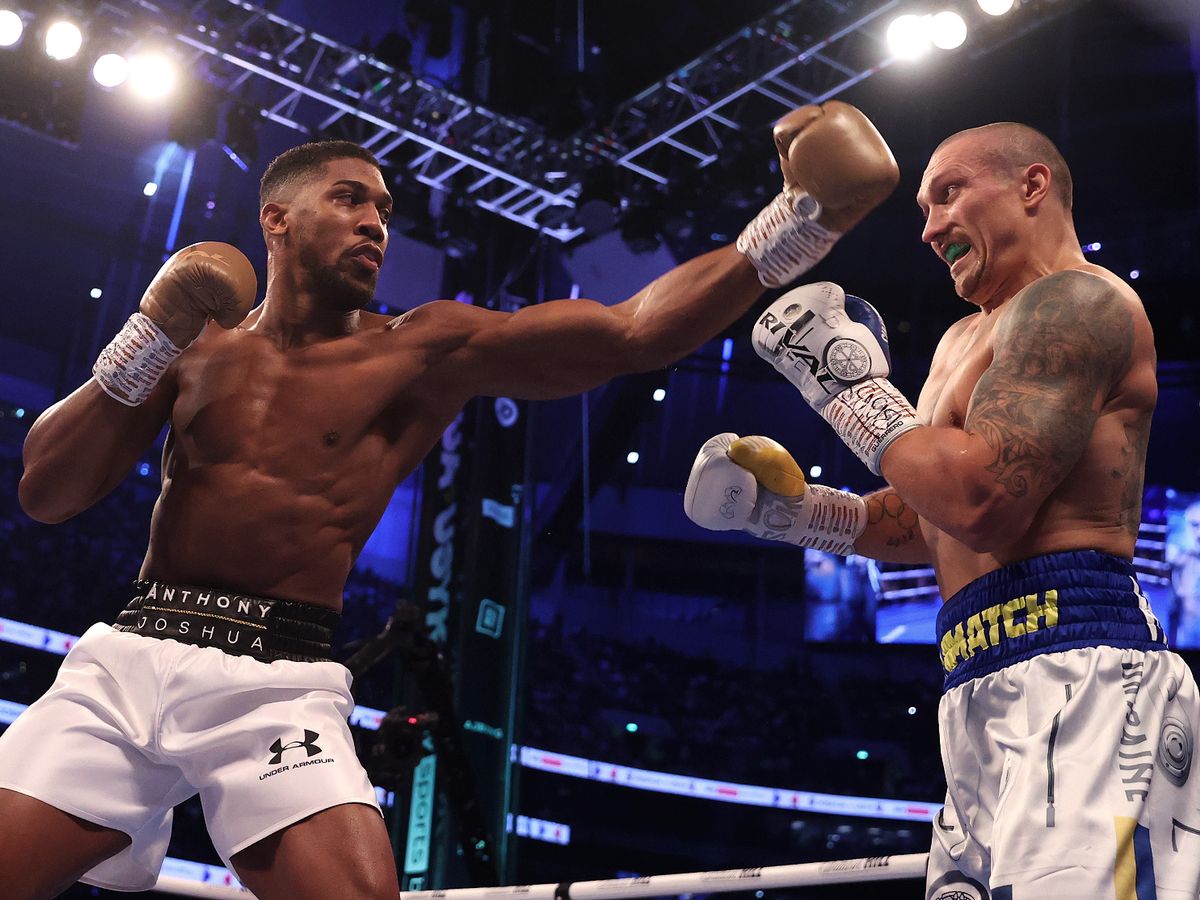 Oleksandr Usyk could be forgiven for having more than just a world title fight on his mind this week. 
The unbeaten WBA (Super), IBF, WBO, and IBO heavyweight champion will look to repeat his comprehensive points win against fellow Olympic gold winner Anthony Joshua this Saturday night in Jeddah, Saudi Arabia in a fight which, one might expect, seem like a welcome change of pace from what has been a very challenging six months for anyone of Ukrainian extraction.
Usyk, who is hailed as one of the most technically sound boxers in the world, took on another fight following Russia's invasion of his country in late February, as he became one of many professional fighters to take up arms against the invaders alongside the likes of Vasyl Lomachenko and unbeaten Bellator champion Yaroslav Amosov, in addition to the Klitchsko brothers — each of them a world champion at one point or another.
Usyk's Instagram shows footage of him not just patrolling Ukrainian territory but also using his influence to appeal directly to Russians who have been swayed by their country's propaganda machine.
View this post on Instagram
"I'd like to speak to the people of Russia. If we consider ourselves as brothers, orthodox ones. Do not let your children to set out to our country, do not fight with us," he wrote in the early stages of the war. "Also I'm addressing this to the President Vladimir Putin. You can stop this war. Please just sit down and negotiate it with us without claims. Our kids, wives, grannies are hiding in the basements… We are here in our own country, we cannot do it other way – we are defending… Stop it! Stop this war."
Those words have, so far at least, fallen on deaf ears.
If it wasn't already obvious, Usyk is fighting for far more than world heavyweight supremacy this weekend.
"At one point I went to the hospital where soldiers were wounded and getting rehabilitation, and they asked me to go, to fight (Joshua), to fight for the country," he said in the weeks before the contest. "They said if you go there, you're going to help our country even more instead of fighting inside Ukraine."
View this post on Instagram
These words were matched by Usyk's promoter, Alexander Krassyuk, who said: "He was in touch with high-ranking military officers and he visited the hospitals with injured soldiers. In every conversation, he heard words of blessing and support to take the rematch.
"People wanted him to fight. People still want him to win. People want the Ukrainian flag to rise, people want the Ukrainian anthem to be heard throughout the whole planet. Not many men in the world can deliver this to millions of people."
While whatever happens in the ring on Saturday night will ultimately pale in comparison to what is going on every second of every day in his homeland, Oleksandr Usyk will have the support not just of his nation but of most others as he looks to outbox, outwork and outclass Anthony Joshua for second time.
And as soon as that final bell rings, Usyk knows what's next: "I don't want to leave the country [forever.] I really don't want to leave the country. I want to live there, and right after the fight I'm preparing, I'm going to go back to Ukraine."
***
To accompany the fight, Blockasset have released an official NFT collection for Oleksandr Usyk, designed by renowned artist Dosbrak. All purchases support the Usyk Foundation, which was created to help aid Ukrainian citizens affected by the recent war effort by Russia. You can support the foundation and purchase the collection here.
Comments
comments