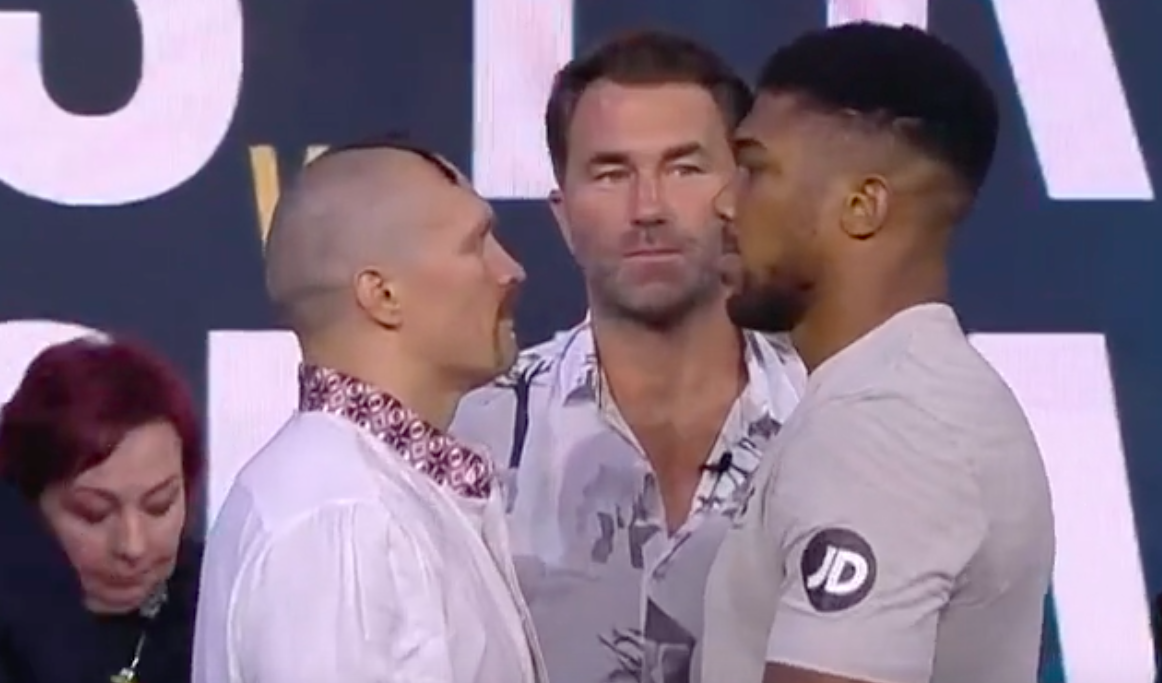 This one is for all the marbles.
Days after Tyson Fury retired again and potentially opened up the WBC heavyweight title for a new owner, the two other men at the top of the heavyweight summit have weighed in ahead of Saturday's fight in Jeddah, Saudi Arabia in what should reveal who is the world's top fighter (at least in Fury's absence).
Joshua, who was defeated by the unbeaten Usyk in a unanimous decision last year, weighed in slightly heavier than he did first time around, this time at 244-pounds. Usyk, meanwhile, registered a weight of 221lbs — the exact same figure he was ahead of their first meeting in October 2021.
"All of this stuff, weight, face-off, none of it matters to me. Just looking forward to the fight," said Joshua after his stare-down with his Ukrainian foe.
Oleksandr Usyk has come in at a career heaviest, while Anthony Joshua has also added weight ahead of Saturday's blockbuster rematch. 🚨#UsykJoshua2pic.twitter.com/44mXymhSwT

— Sky Sports News (@SkySportsNews) August 19, 2022
Usyk, meanwhile, was tipped in the media to be entering the fight at a career-high weight, and while he technically did that because he was a half-pound heavier than in their first fight, the former cruiserweight champion said that he enjoyed the misinformation he saw in the media.
"Your expectations are not met every time," he said with a smile.
Joshua, meanwhile, enters the fight under the tutelage of new coach Robert Garcia after ditching former trainer Rob McCracken, and said that he was more than prepared for whatever he has to deal with in the ring on Saturday.
"I'm just ready for 12 rounds, 100 per cent ready for 12 rounds and anything short of that is a bonus."
To accompany the fight, Blockasset have released an official NFT collection for Oleksandr Usyk, designed by renowned artist Dosbrak. All purchases support the Usyk Foundation, which was created to help aid Ukrainian citizens affected by the recent war effort by Russia. You can support the foundation and purchase the collection here.
Comments
comments