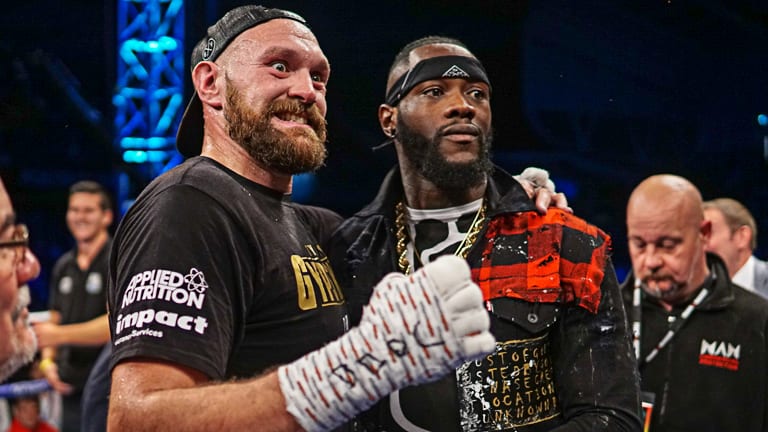 There was a strange sense of inevitability to Deontay Wilder's win agains Luis Ortiz in Las Vegas last weekend.
Despite being outboxed for the majority of the opening of the fight, Wilder has shown that he doesn't need many openings to leave a definitive imprint on a fight. Following the blueprint which has brought him so many of his 42 professional wins, Wilder took until the seventh round to land anything of note as he uncorked his thunderbolt right hand to land squarely on the forehead of the Cuban veteran.
Ortiz, 40, was unable to beat the referee's count. The defeat likely means the end of his pursuit of recognised world titles, but for the American the opposite is true. Already holding the WBC heavyweight crown, Wilder will next face Tyson Fury in February in a rematch of their first tussle from December of last year in which Fury showed himself in rarified company as someone who was able to launch a Lazarus-like comeback after a late Wilder shot sent him to the canvas.
View this post on Instagram
Their first fight, of course, was declared a draw after Wilder's two knockdowns clawed back the judges' scorecards after Fury, like Ortiz, had dominated the opening proceedings of the fight.
A day after Wilder's win, Fury took to social media to fire a verbal jab at his rival and suggested that the display that Wilder put on against Ortiz certainly doesn't have the English heavyweight shaking in his boots.
Wilder has nothing more than a punchers chance vs me, I'm gonna school even more than the first fight. 🤣🤣🤣🤣🤣🤣🤣🤣 #BUMCITY

— TYSON FURY (@Tyson_Fury) November 24, 2019
"Wilder has nothing more than a puncher's chance vs me," Fury wrote on Twitter. "I'm gonna school [him] even more than the first fight."
Wilder's victory against Ortiz (which sets up the Fury rematch) is the latest step in a series of fights which should bring some much-needed clarity to the heavyweight division. Andy Ruiz, who holds three of the recognised heavyweight world titles, takes on Anthony Joshua for a second time next month, with the winner of that in prime position to face the Fury-Wilder winner sometime in 2020.
One suspects that, if negotiations can bypass the the various deals that these fighters have with broadcasters, next year could deliver the first undisputed heavyweight champion in boxing since Lennox Lewis 20 years ago. And that span of time appears to make sense too, given that the division has rarely been as exciting and competitive as it is today in the last two decades.
Comments
comments