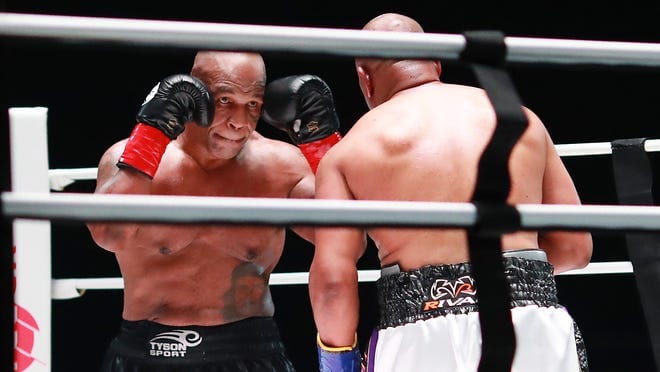 Mike Tyson says he avoided going for the knock out in his recent bout with Roy Jones Jr.
The two legends met in an eight-round exhibition that went to a draw last year, with Tyson returning to the sport after 15 years away. While the contest might have been fought with modified rules — two minute rounds, for instance — many were impressed with Tyson's performance as the 54-year old rolled back the clock and landed big shots to Jones throughout.
At the time, however, that was some suggestion that Tyson had held back from pouring on the pressure to a visibly fatigued Jones — something Tyson is now willing to admit.
"I felt better than I anticipated, I thought I would be a little more nervous than I was, but I was relaxed. I felt like 'wow' – I could do some more, I could punch more combinations, I could do this and do that," Tyson said, speaking on his Hotboxin' Podcast.
"I said, "wow, this is interesting" and I want to do it again and I want to do it against someone I could go all out on. It made me interested in wanting to do it again. I wanted to go the distance, I didn't want to knock anybody out, that's what people expected, but I wanted to go the distance."
Tyson's next competition is yet to be announced, but there's been some suggestion it would be a trilogy fight with longtime rival Evander Holyfield, who has repeatedly called for one more outing with the man who infamously bit his ear off.
Comments
comments