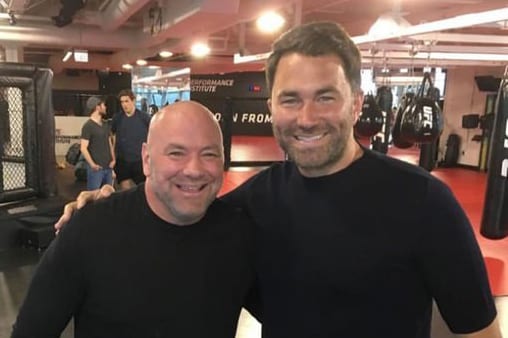 Matchroom Boxing promoter Eddie Hearn is one of the sport's most powerful figures but says that he is "jealous" of UFC president Dana White's ability to arrange fights that fans want to see — and says that perhaps the two could work together to implement a similar model in the world of boxing.
Speaking earlier this month, White paid tribute to the Englishman. "Eddie Hearn has some of the top guys in the world putting on these big heavyweight fights and I think Eddie Hearn's doing it right," White said. "When Eddie Hearn puts on a fight, Eddie Hearn actually makes money. A lot of these other guys aren't making money."
White continued, saying that the infrastructure of boxing — with its several different regulatory bodies — makes it difficult to book fights between some of the sport's top stars and this is a point echoed by Hearn, who said that perhaps he and White could one day work together to make the boxing model more similar to that of the UFC.
"We all know one controlling body in boxing is highly unlikely, but it may be the answer and it may be the solution, so we have to make sure we can try and dominate the marketplace so we are the significant leading promoter," Hearn said.
"I'm very jealous of [White's] position to make the fights the fans want to see," he added. "Who knows what the future brings? Maybe me and Dana will end up taking boxing over."
Hearn also said that he has received several offers to move into the mixed martial arts business, but that he is unwilling to do unless he can be involved at the absolute highest level of the sport.
"A lot of people are asking me to do it," he said. "Whether it's broadcasters or other organizations that would like to grow and trying to rival the UFC. I don't want to go in and be No. 2. Being No. 1 in that space is very, very difficult … Let me crack boxing first and then we'll see about MMA."
Comments
comments