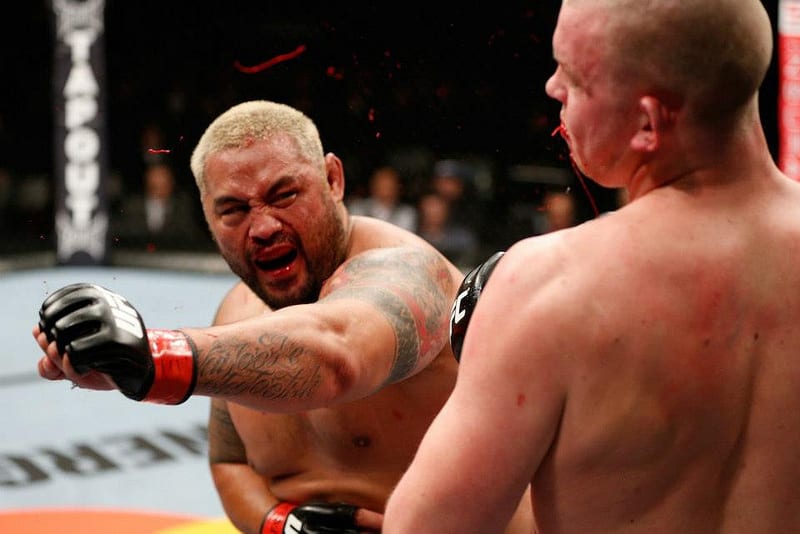 Mark Hunt might be back to have a scrap this weekend, but he isn't coming quietly.
The UFC heavyweight faces Alistair Overeem this Saturday at UFC 209 in Las Vegas, Nevada. It's his first appearance since filing a lawsuit against the UFC and past opponent Brock Lesnar, alleging they had colluded to allow Lesnar to compete while using performance enhancing drugs.
Hunt, as many are aware, is bitter about the entire thing — and that extends to the Dutchman he fights Saturday.
"I expect to knock the cheating, steroid using prick out," Hunt said, speaking with NESN.
"It's kind of easy to be honest. I think of him like I do the rest of the steroid using cheats. I dislike them, and I don't think they deserve to be here. Fighting someone like Alistair, especially in a rematch, is a pleasure. It's going to be a pleasure of mine.
"I look at Alistair as I look at Brock Lesnar and the rest of these cheating bums. They shouldn't be up here, we should get rid of all these users."
Lesnar, Hunt's opponent at UFC 200, recently retired from the sport to continue with his professional wrestling career. While in the meantime, Hunt's lawsuit with the both Lesnar and the UFC continues to trundle on resolved.
Unsurprisingly, Hunt is unimpressed by the legacy left by the former champion.
"To me he's nothing but a fraud and a coward," Hunt said. "He's a cheater. Why do we even give these guys any credit when they're cheating? Why does the media and the whole world say 'oh he's done that, he's done this'? The dude's sticking needles in his ass, he's a cheater like the rest of them."
Comments
comments