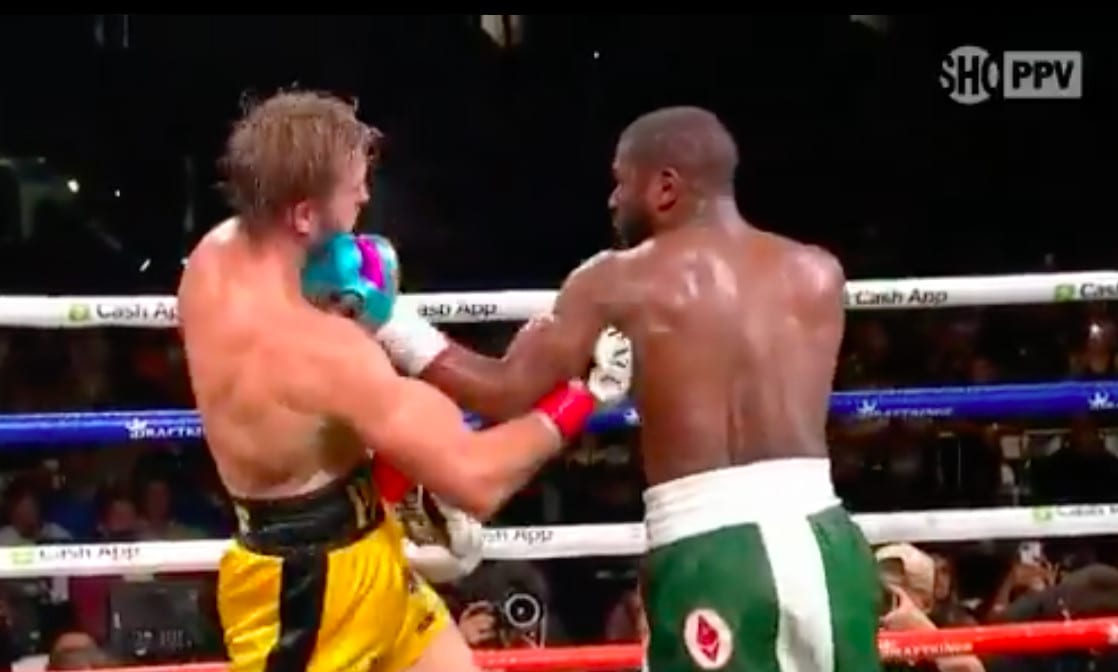 Logan Paul just took Floyd Mayweather eight rounds.
The skill difference was apparent from the off, but Mayweather simply wasn't able to put the significantly bigger man away, despite landing big shots to Paul's head and body. In the end, Paul's ability to use his size and clinch for the latter part of the fight meant he was able to see the final bell.
To Paul's credit, he never backed down from the 50-0 boxer, constantly talking to him throughout the contest and attempting to rile the icon up.
After the bout, Mayweather seemed taken aback, and even made a point to pay tribute to the younger man.
"I had fun, you gotta realise, I'm not 21 anymore," Mayweather said, speaking after the contest. "Great young fighter. Strong, tough, he's better than I thought he was. He's a tough, rough competitor. I had fun. I was surprised by him tonight. Good guy. … I fought against a heavyweight. I had fun, even though he don't have that much experience, he was able to use his weight to tie me up. We don't know what the future holds, I'll talk it over with my team. You got to realise, I've been in this sport 25 years, I'm not 21, I'm not 25, but I had fun."
For Paul, in reality, the fact he survived to the end is a victory.
"Shit man, I don't want anyone to tell me anything is impossible ever again," Paul said. "You never know with this guy. I'm gonna go home thinking did Floyd let me survive, he's one of the goats and in many ways he controls this sport to a tee. This is the coolest thing ever. He's old but he's tough to hit, and he's not that old."
Comments
comments