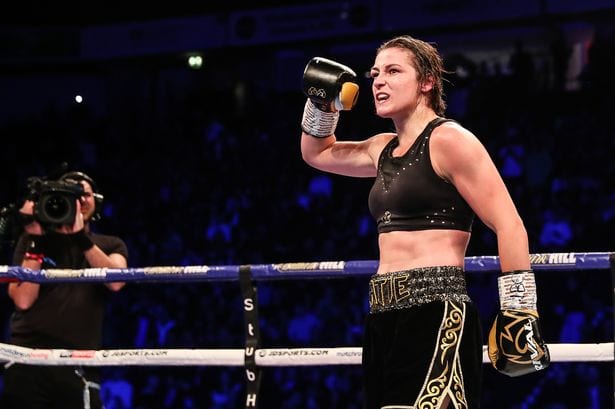 Matchroom Boxing chief Eddie Hearn has confirmed that Katie Taylor is to take up the rematch clause in her contract to box Chantelle Cameron later this year in a bid to avenge her first and only professional boxing defeat.
Taylor's Irish homecoming was spoiled by Cameron in May when she outpointed the Bray native as she attempted to become a two-weight undisputed world champion. The bout, which was Taylor's first as a pro in her home country, was a one of the biggest women's boxing matches in history, generating significant attention on both sides of the Atlantic — and according to Hearn, they are set to do it all over again later this year.
"Katie is going to exercise that rematch clause against Chantelle Cameron. "We'll plan that fight for November time," Hearn said on the Matchroom Boxing YouTube channel. "It's gonna be a huge fight. There was no talking Katie Taylor into any other fight. All she wanted was a chance to rematch Chantelle Cameron."
The first bout took place inside Ireland's largest indoor arena, the 3Arena in Dublin's docklands, after protracted discussions to host the fight in Croke Park fell apart, with Hearn blaming excessive fees associated with booking the famous venue as the stumbling block.
And he added that for the proposed November rematch, Croke Park will once again be out of reach.
"Maybe, I mean again it depends on timing. September's kind of the latest that you can have that fight," he said of potentially hosting the fight in the home of the Gaelic Athletic Association (GAA).
"I think a stadium would be fun, but it was pretty good in there on Saturday, I loved the arena, just unbelievable," he said. "And one of the things I enjoyed most about Saturday was it was a 9,000 arena, at 6:30pm – 6:45pm we had 7,000 people in. The main event was at 10:30pm – 10:45pm."
Comments
comments