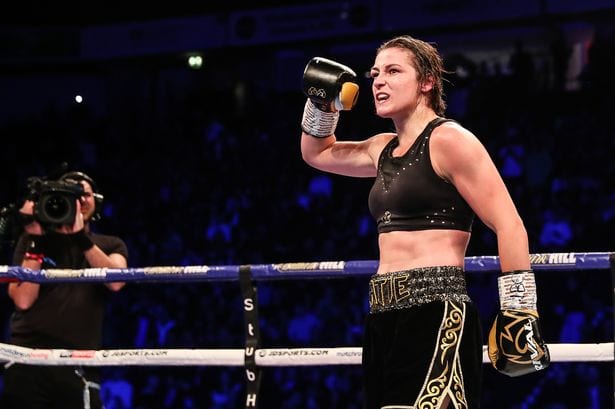 One might expect it natural, inevitable even, for a boxer who has experienced the success that Katie Taylor has to occasionally take her eye off the prize — but ahead of her 20th professional fight this weekend in Liverpool, the Bray woman says that she is taking Firuza Sharipova as seriously as anyone she has ever traded blows with.
The 14-1 Kazakh fighter Sharipova has been notably vocal on social media ahead of Saturday's fight, a well-worn tactic against a fighter of Taylor's calibre, but opted for a more respectful approach when the two came face-to-face this week.
"I have great respect for Katie Taylor," Sharipova said via translation. "She has been my idol all the time, but I've come here to win. This fight is very important for me, and I have done everything possible to achieve my dream and win the fight."
It was a notable contrast to some of Sharipova's prior statements, designed, perhaps, to place Taylor in a position where she doesn't perceive a threat from her opponent. But as Taylor later said, she has learned her lessons when it comes to underestimating her foes.
"I heard she was being a bit vocal for the past few weeks, but she seemed quite respectful up there. It is what it is," she said. "I don't find it hard at all to motivate myself in fights like these. I am definitely aware of the challenge I face.
"I am just super focussed on the job in hand. I know no opponent can be overlooked."
A win against Sharipova will increase speculation of much-hyped showdown with Amanda Serrano sometime next year in what would likely be the biggest fight in the history of women's boxing. But as Taylor was keen to impart, all that matters right now is Saturday night.
"I have to get through Saturday night and then obviously focus on the bigger fights. I am aware that there are several big fights out there for me with the bigger name that could possibly happen next year. I learned my lesson the hard way. So, I am one hundred per cent prepared and one hundred percent focussed on putting in a big performance."
Comments
comments