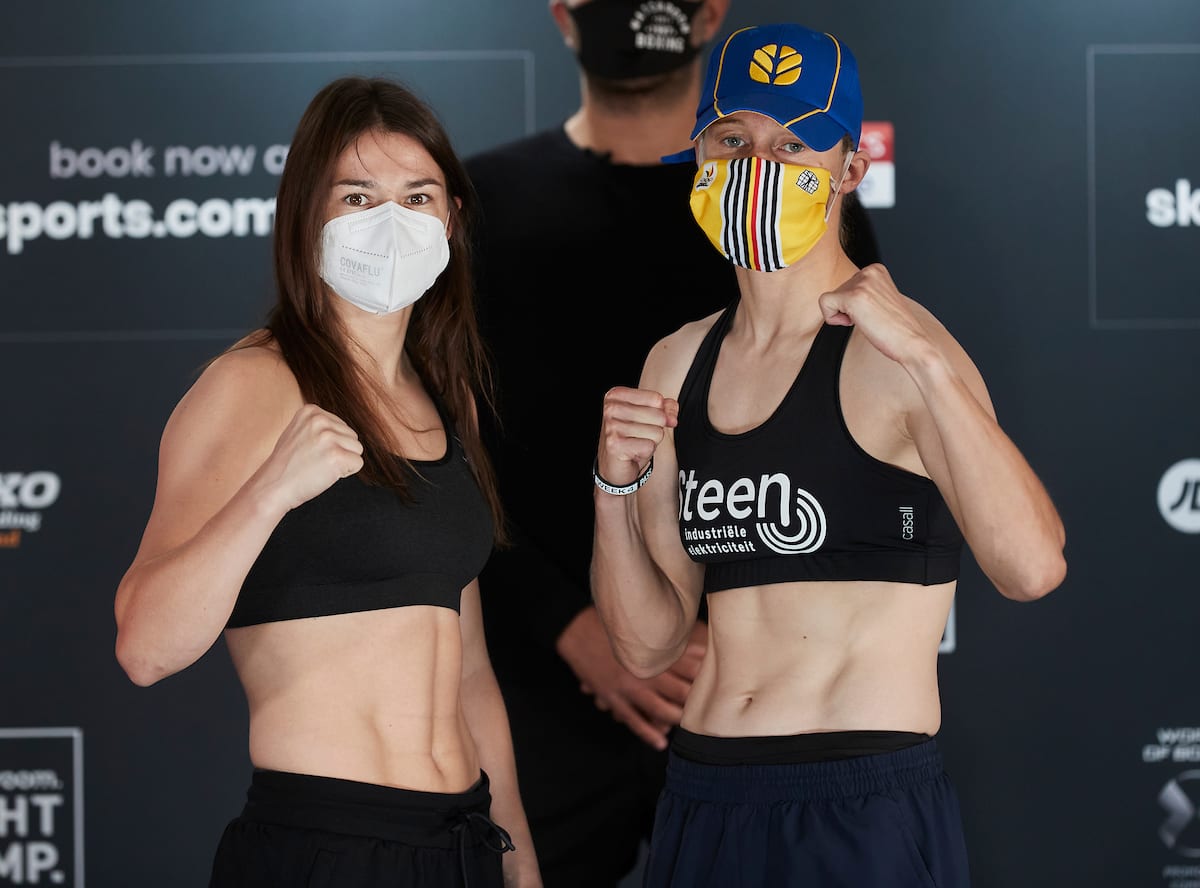 Katie Taylor remains the boxing lightweight champion after an absolutely grueling affair with Delphine Persoon tonight in Essex.
Taylor and Persoon — as they did in their first fight last year — went back and forth for 10 rounds with the judges eventually ruling the contest in Taylor's favour 98-93, 96-94 and 96-94. Taylor retained her world titles with the victory.
As it was in the first contest, it came down to a story of quality versus quantity, with Persoon's absolutely relentless pressure finding herself in Taylor's face from beginning to end. For her part, Taylor used her boxing to stick and move with quality head movement, landing clean left hooks on the exit from the inside repeatedly. Often, the contest would descend into a grinding brawl of sorts, with the Irishwoman refusing to give momentum to Persoon and being content to trade shots.
While the first fight, which also went to Taylor, was a controversial affair that had many wondering if the Bray woman had gotten a little fortunate, there was less debate this around, with Persoon admitting she felt she'd come up second best.
Another win for Katie Taylor! 🇮🇪

The judges deliver a unanimous verdict – 98-93, 96-94, 96-94 – after a hard-fought battle against Delfine Persoon. 👊

Dillian Whyte vs Alexander Povetkin is up next on Sky Sports Box Office, do not go anywhere! 📺 pic.twitter.com/RjdBBHxYyX

— Sky Sports Boxing (@SkySportsBoxing) August 22, 2020
"It's ever gonna be an easy fight against Delphine, she's relentless," Taylor said in her post-fight interview. "I stuck to my boxing a bit more, even though I got drawn in a few times, but I stuck to my boxing and that's what got me through to the end. … What an amazing two fights for women's boxing, we've definitely done our part to promote the sport."
"This time, I respect the result. … I feel like I didn't have the power to hurt her this time," Persoon said. "If you don't hurt her, it's technical. It's good, she runs around and you have to hurt her or she's away. She deserves this time to win, I've got no problems with this. … My respect to her, she deserves to win today."
Comments
comments