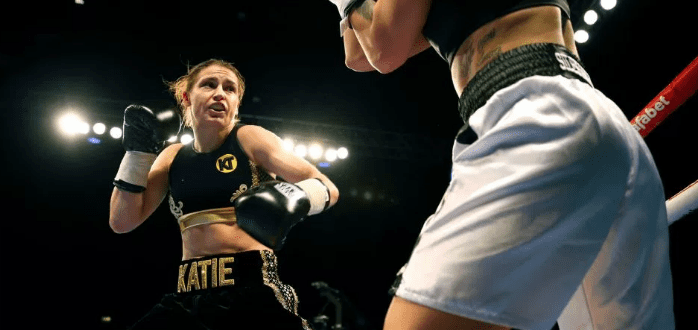 It's so close now you can almost touch it.
Katie Taylor and Amanda Serrano, two of the three fighters considered to be the finest in women's boxing history (the other being Claressa Shields), stand on the precipice of what would easily be the biggest women's boxing fight of all time, and one of the biggest fights full stop in quite some time.
Taylor had a workmanlike performance last Saturday night against Kazakh fighter Firuza Sharipova, outpointing her rival in what was a solid if unspectacular performance — and if seven-weight world champion Serrano can do the same in her upcoming test against Miriam Gutiérrez, herself a former victim of Taylor's, then a box office bonanza awaits.
"I wouldn't say it was a masterclass by any means, but a win is a win at the end of the day, and this sets up a huge year for me next year," Taylor said to Ariel Helwani this week on The MMA Hour, via MMA Fighting. "There's obviously an awful lot of talk over the last few months about the big fights next year, and I knew that this fight last week was kind of like a banana-slip type of opponent.
"She was kind of like the final hurdle that needed to get passed before these big fights actually happened next year. And so it definitely wasn't a masterclass, but I thought I did well in spots and there's certainly lots to improve on, but it sets up a huge year for me next year and I'm actually excited to go into the new year with these big fights ahead. I think it could be possibly the biggest year in female boxing history."
And the focus is purely on the 41-1-1 Serrano.
"Amanda Serrano has to do her job this weekend, and once she does that — everyone obviously expects her to get through that over the weekend — once he does that, it's going to be a huge fight. It's probably the biggest fight in women's boxing history, and what an amazing privilege and honour to be in this position," Taylor explained.
"I definitely will be very, very surprised if she didn't come through with that. Gutiérrez is a tough opponent. She's big and she's tough, but skill-wise I wouldn't say she's on Amanda Serrano's level, so I definitely would expect her to get through that fight. But over the last few years, since I have turned pro five years ago, I think everybody has been talking about this fight, so it's going to be a huge event."
Comments
comments