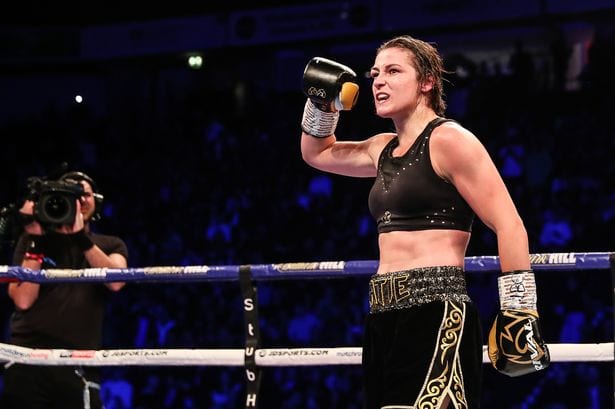 Katie Taylor's bid to headline Croke Park will have to wait after her promoter Eddie Hearn said that prohibitive costs will likely mean that her next fight will instead take place inside Dublin's 3Arena.
Taylor, the world's undisputed lightweight champion, will defend her crown in the Irish capital on May 20, Hearn revealed yesterday, where she will likely rematch Amanda Serrano provided she comes through unscathed in her upcoming featherweight title fight against Erika Cruz. Taylor will be in attendance at the fight and could be introduced as Serrano's next opponent, should terms be finalised.
But Hearn revealed that the costs from the GAA did not make the fight a realistic possibility for it to be hosted at Croke Park, crushing the dreams of Irish fight fans — and likely Taylor herself.
"The fight won't take place at Croke Park," Hearn said. "We've done everything we can to [make it happen]. Ultimately and bizarrely, the cost of doing a show at Croke Park is three times more than Wembley.
"And people will say on social media, 'Oh, pay the money, Hearn!' It's like, no, no: the fighters want this much money. If we do it at Croke Park, even with a sellout, with the cost that they want to charge, it's not possible to give the fighters what they deserve. So, we will go to an arena in Ireland if we make Taylor-Serrano and if Serrano comes through on Saturday night.
"One thing I promise is we will be in Ireland for Katie Taylor's next fight. That will happen."
Hearn also revealed his disappointment at the Irish government's lack of action in attempting to oversee the fight taking place at Croke Park, which would likely be considered a landmark day for Irish sport. It is understood that efforts were underway last year to insert government influence but this fell apart in a December cabinet reshuffle.
"When you talk about 'government help' or 'support', people think that we shouldn't be asking for that," Hearn added. "I'm not having a pop at the Irish government but if the government are supporting sporting events — which they do — how can you not support an event that will quite simply be one of the greatest events in the history of Irish sport?
"It's disappointing."
Comments
comments