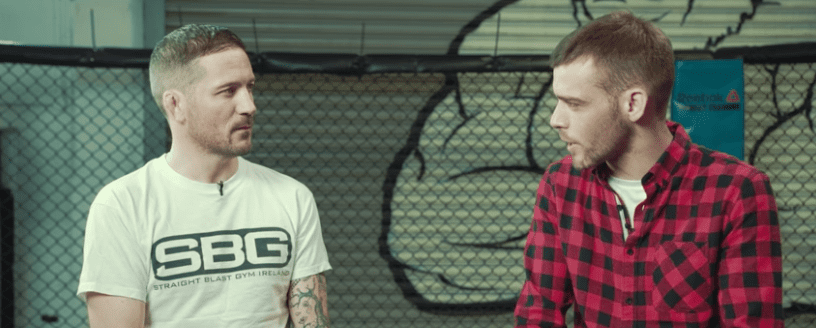 In a little over two weeks time two of the most dominant fighters in the quarter century history of the Ultimate Fighting Championship will be locked in a cage together in Las Vegas. On the line will be the organisation's lightweight title, a prize which both men claim is rightly theirs.
However, the magnitude of the showdown between Conor McGregor and Khabib Nurmagomedov at UFC 229 on October 6 eclipses even that of the gold belt they are competing for. It is a fight which has blurred the lines between athletic competition and personal rivalry, and once the dust settles it will likely be remembered as the most watched mixed martial arts contest in history.
John Kavanagh, head coach at SBG Ireland, is the man tasked with negotiating McGregor's journey through the combat sports landscape. He has overseen his student's rise through the European regional scene to two UFC titles and on to the most lucrative prizefighting bout in history last year opposite Floyd Mayweather.
But with that sojourn to the squared circle now in the rear view mirror, Kavanagh is preparing his fighter for a test that no professional fighter has yet been able to pass, so what is the strategy ahead of Conor McGregor's first mixed martial arts contest in 23 months?
"I think it's how you approach training," Kavanagh said to TheMacLife.com from his SBG HQ in Dublin, Ireland, when asked if the concept of ring rust might apply.
"I think if your gym environment and how you train in the gym is very separate to how you compete then for sure there will be ring rust but if you are regularly putting yourself in stressful sparring situations, which is the best we can get in the gym environment, it more resembles competition then.
"So, specifically very much for this training camp we had a lot of very intense training sessions, sparring sessions, it's done in the environment he's going to compete in. We even had spectators for a lot of the spars, so we're trying to make the training environment as closely mimic the competition environment so there isn't that much of a disconnect between the two of them."
Kavanagh has long been a proponent of intelligent sparring in his gyms. His maxim of 'upgrading the software without damaging the hardware' has proved successful to this point and he says that the most nourishing training doesn't come from going too hard, but from accurately simulating what will take place once the first bell rings on fight night.
"I guess it depends a little on where the fighter is in their career, how their training is going to be specific for them as opposed to someone who's maybe coming through the amateur ranks but I would still say that regardless of whether the spar is 'dangerous', even where a jiu-jitsu player is getting ready for competition you can mimic to a closer degree than just rolling with your mates in an open environment, whereas if the coach says to you tomorrow it's you versus your toughest sparring partner Dave who is always bridging and rolling out of your mount and is hard to take down and we're going to do it with the whole group watching and I'm going to award points as it goes along, you will wake up that morning with a similar feel.
"Our reptilian brain, that mid brain, is not so developed as to be able to differentiate between where the competition is held, even though it's in the gym environment — even if it's only a grappling environment," Kavanagh explains. "So you know there is no real physical damage that can be done. With all of my guys we do simulated fights, if you want to call them spars. Some of them are for grappling competitions, some of them are for kickboxing, some of them are for MMA. So it's more the psychological part of it rather than the heavy impact side of it."
Russian fighter Nurmagomedov poses some unique questions and, to date at least, they have yet to be answered. Many see the showdown between McGregor and Khabib as being a linear battle of striking versus grappling and while Kavanagh says that this may be true to a certain extent, the stylistic clash is perhaps more nuanced than it might appear.
"It's similar to Nate but for completely different stylistic reasons," he explains. "If you're fighting Nate you're probably not dealing with a whole lot of takedowns. He doesn't shoot in all that often. You're probably not dealing with a whole lot of kicks, maybe not even knees and elbows. It's almost like dealing with a boxing match, almost a singular style approach to fighting.
"Now, he's brilliant at it and I loved that fight. I always say I'd love to see a trilogy. Now with Khabib, he probably brings more to that problem than even Nate because with Khabib he will throw shots. His last fight was mostly stand-up after the first round. But yes, if we were to be betting we could probably guess that he's going to shoot right from the locker room right at the start of round one like he did in the Al Iaquinta fight. There's probably going to be a low single coming right away. I find it hard to imagine that they have any plans for any exchanges on the feet.
"Not that he went for a whole lot of takedowns but he did start failing on his takedowns against Al Iaquinta and then he went back to that nice jab he was using in the fight. He's rounding out his game. He's with AKA, a very strong kickboxing background with [Javier] Mendez. I suppose they do have that as a 'plan B' but it is interesting fighting an unbeaten fighter. I've had a lot of my guys that went a long time unbeaten and then they have the loss. It's always interesting to see, in that fight where they had their first loss, when things start to go wrong. It's an unusual feeling for them and sometimes they struggle to deal with that.
"I don't think Khabib has lost a single round in his UFC career. If you do lose a round are you going to be able to come back out with that same level of confidence in the next round? There's a lot of interesting things to be played out in this fight."
Conor McGregor has ended 18 of his 21 wins by knockout and with a striking pedigree so obvious to most, the gameplan for the majority of his opponents has been similar: avoid getting hit and push forward to clinch or grab a single leg, so his expectation from Nurmagomedov is something similar.
"Besides, like I said, the Nate fight and the Aldo fight was so quick that there was not a lot to take away from it, he's generally facing someone that he's better on the feet and he's picking them off and they're trying to take him down. That's been the standard fight that he's had. Whether it's Mendes or even the Eddie fight, a few times Eddie got him on the fence and was trying to take him down but this is against somebody that does that better than anybody that he's face before. We have to be straight about that.
"I think it's going to be a lot of the positions that we've seen him in before but it's against somebody who, like I said, is doing it at a very high level."
Do you want to head to Las Vegas to watch UFC 229? You can purchase event tickets here, as well as your flights right here.
Comments
comments