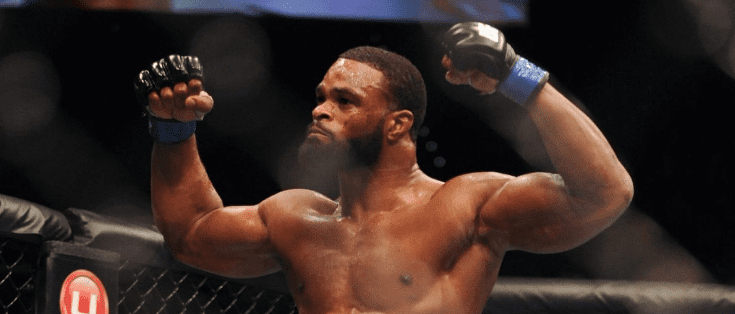 No sooner than Tyron Woodley was out of the Octagon at UFC 228, he was asked if he'd be open to fighting in the still vacant main event of the upcoming UFC 230.
The November 3rd event takes place at Madison Square Garden in New York, which traditionally means the UFC puts multiple big names on the card. While it's currently set to feature the return of Nate Diaz, the promotion have yet to announce a main event for the date.
Currently, Woodley seems to be the only champion realistically able to fill in, particularly if it's against his rival Colby Covington — a contest that continues to gain traction amongst fans due to the trash talk between the duo. According to Woodley himself, he's happy to take the fight, he just needs to get cleared by doctors before he can.
"I've got an MRI on my thumb and I'm sending it for a second opinion," Woodley said, speaking with MMAJunkie. "If I'm good, then I have no issue with fighting in November. The more I fight, the better rhythm I get in the swing of things. Obviously, I just fought, so I'm still in phenomenal shape. I've been eating pancakes, shrimp fried rice, brownies – taking a week and eating some bull crap.
"… It all depends on how severe my thumb injury is. I dislocated it in the first round punching [Till] in the back of the head. I thought it was just jammed."
It would be Woodley's second outing in the legendary arena, having fought Stephen Thompson at UFC 205. And, should it be Covington who gets the next call, Woodley feels confident enough in all areas to defeat his brash rival.
"I would love to fight in Madison Square Garden again," Woodley said. "Not to sound arrogant, but would never take a fight against Darren Till if not 100 percent confident in both my hands. So I think I could beat [Covington] even if my hand's a little jacked up."
–
Comments
comments