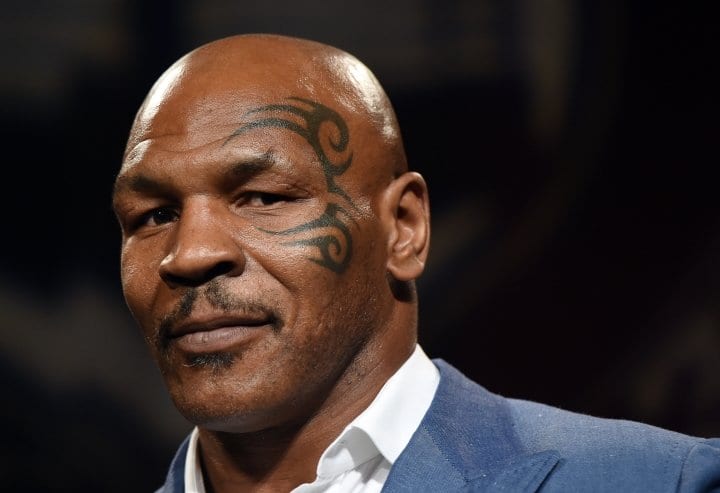 Ahead of his return to the ring after a 15-year hiatus later this month, Mike Tyson says his boxing comeback might not be a one-shot deal.
Tyson is due to box fellow ring veteran Roy Jones Jr. on November 28, completing the former heavyweight champ's long-awaited return to boxing after he retired following defeat to Ireland's Kevin McBride in 2005. The exhibition fight with Jones will take place across eight rounds and Tyson admits that the time in the ring later this month might not fully quench his thirst for competition, and has spoken recently about the prospect of a 'legends division' within boxing.
And one man that Tyson has a semblance of unfinished business with is Evander Holyfield. The two icons of heavyweight boxing have, of course, met on two previous occasions. Holyfield won both, with the second bout featuring the now infamous ear-bite incident which has grown to become one of the most controversial single moments in the history of the sport.
However, any animosity between the two has cooled over the past two decades and Tyson says he would welcome the opportunity for a third showdown — so long as people want to see it.
View this post on Instagram
"That's always something that we can do if the people want it, if it's pragmatic enough, I'd love to do it," Tyson said this week via MMA Fighting.
What's more, Tyson admits that he would relish the opportunity to test his skills against some of the best fighters on the scene today.
"Man, that would be a novelty," Tyson said. "Me using my skills, matching my skills now against the best heavyweights in the world, that would be mind-boggling.
"'Old guys' – that word don't even make sense," Tyson said. "'Old.' It's just a new time, a new thinking period in our lives. This is what we want to do. Sometimes the gods of war, they revive you and say, 'You have to do more.' Now I wouldn't do it if I didn't prepare for this. I box people to see if I'm able do this stuff, so I can do this stuff."
Comments
comments