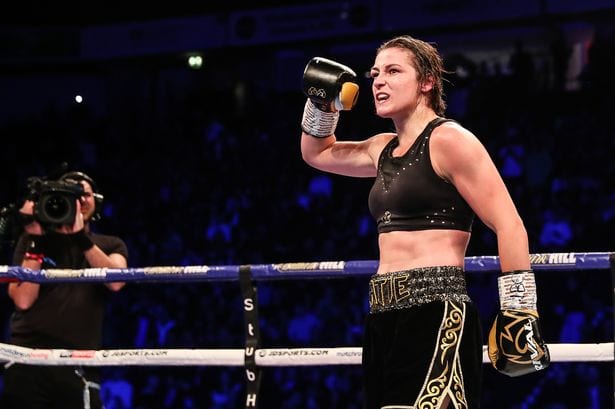 There are three names at the summit of women's boxing: Katie Taylor, Claressa Shields and Amanda Serrano — and two of them might be on a collision course.
Serrano, who was successful in Cleveland last weekend against Yamileth Mercado in defence of her IBO, WBC and WBO world titles, has long been held as a potential opponent for Katie Taylor, and called out the undefeated, undisputed lightweight champion following her appearance on the Woodley vs. Paul undercard on Sunday night.
"We definitely want that fight," said Serrano after the win which improved her record to 41-1-1. "I definitely want to fight Katie Taylor. She's arguably the No. 1, No. 2 – we both, between Claressa Shields, me and Katie are the top three. I definitely want the fight and we're hoping if I become undisputed champion that fight can come along. I want it to be undisputed champion vs. undisputed champion, but I don't know what's happening now, so we've just got to go back and figure it out.
"All she has to do is continue to win, and I continue to win and then that fight is going to happen."

Taylor, who holds a win over Serrano's sister Cindy, is due to fight on September 4 against mandatory challenger Jennifer Han in Leeds, a fight which Serrano says could set up the blockbuster match between two of female boxing's biggest ever names.
"(I need) the right pay day," Serrano said of the potential clash. "I've done everything I've had to do. I'm fighting good fights – top-10 girls. I'm beating them. I'm doing what I have to do to continue to keep my name out there, and it's just up to the promoters and the money. I want to get paid what I deserve."
Serrano, meanwhile, is also 2-0-1 in her mixed martial arts career and earned her latest win by submission against Valentina Garcia this past June.
You watch Katie Taylor vs. Jennifer Han via DAZN by clicking the banner above, or this link. The undercard is set to begin at 7pm UK time, with Taylor expected to fight at approximately 8.30pm. </em
Comments
comments