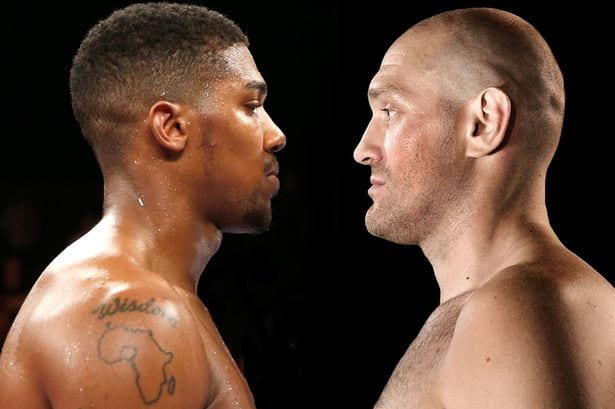 It can't ever just be easy, can it?
Days after Tyson Fury issued a public challenge to British rival Anthony Joshua for a 2022 bout to contest the WBC heavyweight title, and even offering a generous 60-40 split in the spoils, it seems that that the talks between the two parties have hit some snags as to the prospective date.
Fury has revealed that three days were offered to Joshua — November 12 at Old Trafford, November 26 at Wembley Stadium or December 3 at the Principality Stadium in Cardiff — but even after Joshua's promoter Eddie Hearn indicated his side's interest in taking on the bout, it has been reported that AJ's team want the potential fight to take place on December 17.
"I think it's more than generous," Fury told talkSPORT. "I didn't want to go in at 80/20 like they would do to me. I really want this fight to happen because Usyk the middleweight doesn't want no smoke like I thought he didn't and now I'm going after AJ. I've already beaten Wilder and there's only one other person and that's AJ the bodybuilder.
"Why not give him 40 per cent, no excuses, let's get the fight made for the British public. The Battle of Britain, who's going to win it, me or him? He only had a sparring contest [against Usyk] didn't he? He's match fit, coming off a training camp. I've seen they're trying to wriggle a bit with the dates.
"We had Manchester United football ground booked for November 12 but they're saying that's too short. Even better, we've got Wembley stadium booked for November 26 and if he doesn't want that I even have December 3 in Cardiff, so take your pick you dosser."
It is presently unclear as to why Joshua's camp are thought to be pushing for a date just two weeks removed from the final one offered by Fury, but Eddie Hearn has seemed to stick to his guns by saying his fighter will be competing on December 17 whether it is against Fury or not.
If the much-hyped showdown between the two greatest British heavyweights of their generation is to become a reality, it seems as though someone is going to have to back down in their demands.
Comments
comments