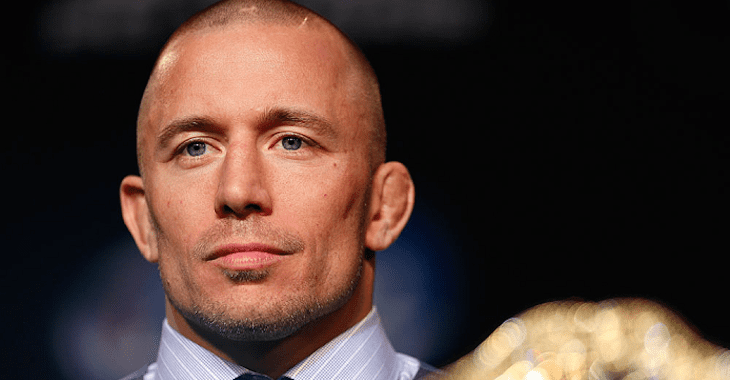 Georges St-Pierre has always been one to do things on his own terms. The longtime former UFC welterweight champion walked away from the sport in 2013, handing over his title in what many people saw as a move in opposition to a growing culture of performance enhancing drugs in mixed martial arts.
Shortly thereafter, the UFC instituted their deal with USADA and in doing so upped the standards of drug-testing considerably from where it had been in the past. Whether the UFC, or mixed martial arts as a whole, can ever claim to be entirely PED free remains wishful thinking at this stage but St-Pierre's return to action suggests that he thinks, at the very least, that the playing field is a lot more even than it used to be.
With that said, it was also interesting to note that St-Pierre's return is to be in the UFC's middleweight division. GSP will challenge Michael Bisping for the organisation's 185-pound strap later this year and his return, in a division north from where he spent the entirety of his UFC career, might suggest that St-Pierre's next cause for concern in the mixed martial arts landscape is the culture of extreme weight-cutting which is prevalent through the sport.
Speaking on the UFC Unfiltered podcast, St-Pierre outlined why the practice of dropping weight ahead of a fight can ultimately do more harm than good.
"I'm not a big fan of cutting weight. I always prioritize my health over my performance", St-Pierre said. "I believe the new weigh-in in the morning (the day) before the fight, I think it's a bad thing. Because now guys, they see it as an opportunity to cut more weight. So, I think it's a bad thing.  I told Dana when I saw him that I don't see it as a good thing.
"I think they have to change it because one day someone will die. One day someone will die and it will affect all of us. It's very bad for your health," he said.  "There is a certain percentage of hydration in your body that is critical, that you can actually die if you're past that point.  It is very dangerous."
Comments
comments