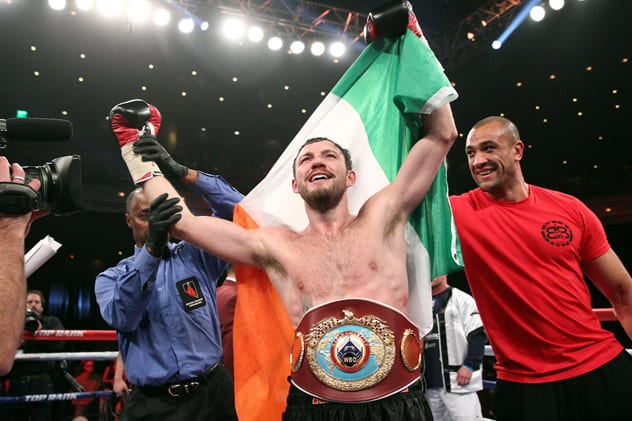 Andy Lee knows a thing or two about high pressure situations inside a boxing ring.
A protege of the legendary boxing trainer Emmanuel Steward, Lee won gold for Ireland in the 2004 European Championships in the middleweight division before parlaying that into a professional career which saw him claim the WBO middleweight title with sensational knockout of Matt Korobov.
Lee ended his professional career after a 2017 win against KeAndrae Leatherwood amassing a career record of 35-3-1 and has since turned his attention to coaching, where he will be in the corner of Tyson Fury this weekend ahead of his gargantuan heavyweight rematch with Deontay Wilder.
And, as he told Off The Ball, Lee says that there have been small but significant changes in the Fury approach which will make him a better fighter than the iteration that Wilder faced in their last meeting.
"There has been no drama, no chaos. He has been doing everything right," Lee said of the camp, which is taking place in Paradise, Nevada.
"There has been no drama, no chaos. He has been doing everything right. I'm sure it has been an unusual training camp for him, as he has been learning and working on things that he has never done before.
"We are working on his weaknesses, instead of his strengths — which will hopefully pay dividends in adding to what he already has."
🙌🏻🙌🏻🙌🏻🙌🏻🙌🏻🙌🏻🙌🏻🙌🏻🙌🏻🙌🏻🙌🏻🙌🏻 pic.twitter.com/03nqoqikJ8

— Andy Lee (@AndyLeeBoxing) February 14, 2020
It is perhaps strange for some to think that an undefeated former world champion could have any significant holes in his game, but Lee says that they are using the time together to patch up some elements of the game Fury may have overlooked.
"Tyson will admit this himself, he has never really been taught the basics of boxing," Lee said. "He has always gotten on by his own ability. Before, he says that he would have worked on things that he was already good at.
"You are not going to change him dramatically, but his jab has definitely improved. Before his jab was occupational; to occupy his opponent. Now his jab is a weapon that will knock Wilder's head back if it lands flush.
"His feints have improved, even though he had great feints before. Tyson, before, would improvise as he went through the fight. He would go from moment to moment, situation to situation – now he is definitely planning ahead; setting traps that will pay dividends somewhere down the line."
Comments
comments