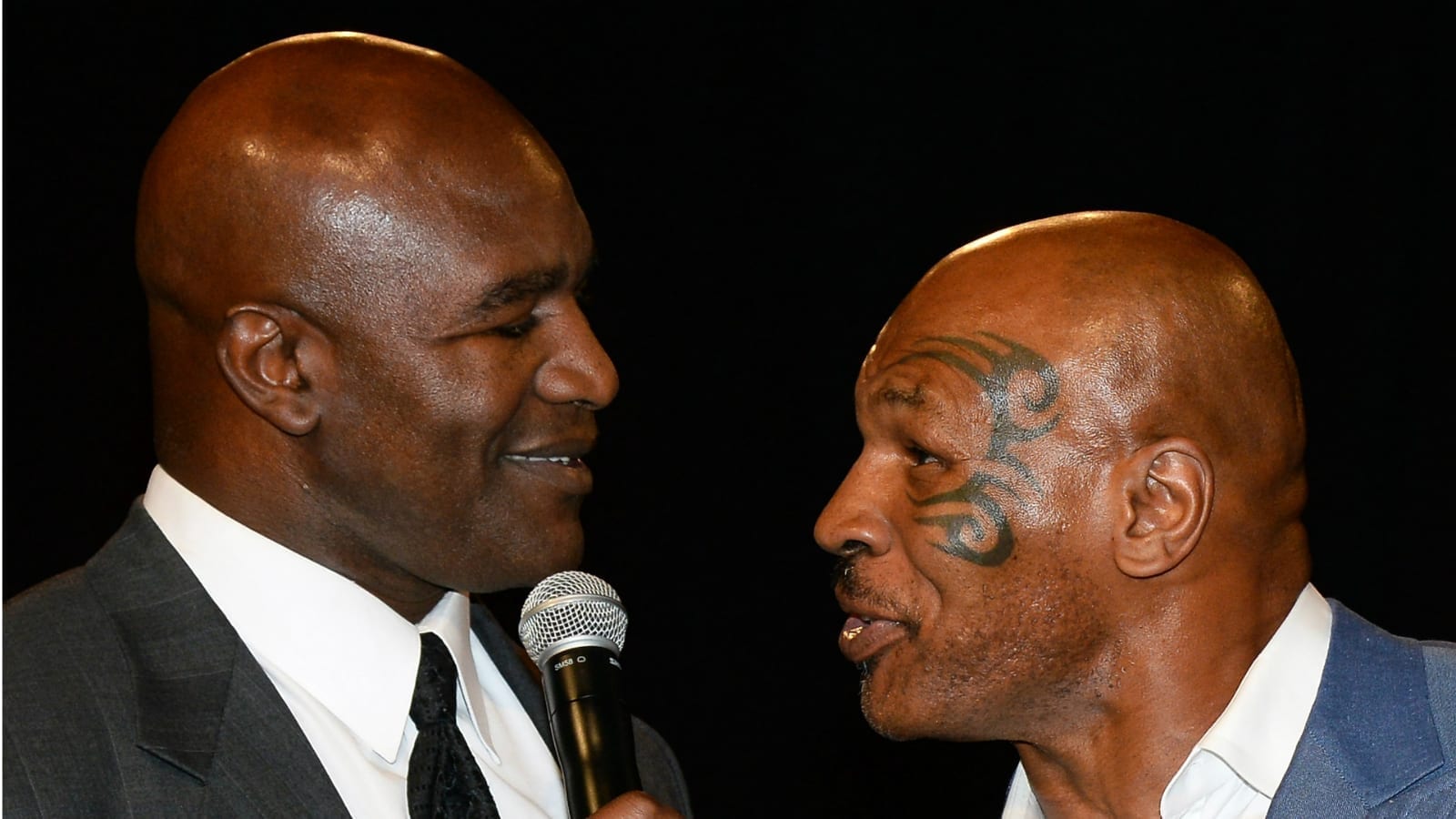 Evander Holyfield has called for a third bout with Mike Tyson, and claimed his former opponent had chose not to meet him in his return bout last Saturday night.
Tyson returned to the ring after 15 years away from boxing to meet Roy Jones Jr. in an eight-round exhibition, which was ruled a draw. Despite the result, Tyson looked the better man on the night, and indeed surpassed expectations with his performance, showing flashes of his old brilliance. After the contest, the former world champion was adamant he'd continue to compete in such affairs, although was uncertain who could possibly be next.
According to Holyfield, it should be him.
"My side tried to make the fight happen and we got nothing but excuses," Holyfield said via a press release. "Now I can see why he wanted a tune-up fight before thinking about fighting me."
That's a different version of events to Tyson, who said to the media at his post-fight press conference that his team had failed to come to terms with Holyfield.
"Maybe Evander needs to talk to me because every time my business associates talk to his business associates, it doesn't turn out well," Tyson said. "So I don't know. If you could see what we made tonight, if these guys really care about the welfare of Evander they would have had this fight with Evander.
"Maybe we'll do another but whoever's he's with who's handling him is totally wrong."
Who's next for Mike Tyson? He doesn't know, but he's not convinced it'll be former rival Evander Holyfield..
.
.
FULL: https://t.co/tgPb4Fc1t7 pic.twitter.com/sMZXBqq6At

— TheMacLife (@Maclifeofficial) November 30, 2020
And despite the fact Tyson earned plaudits for his ability as a 54-year old, it appears he's getting no such praise from Holyfield.
"Roy Jones was a good local opponent for Mike," said Holyfield. "But a fight with me would be a global event and the only fight that anyone wants to see is a fight between us. There is absolutely no reason why we shouldn't make it happen. No more excuses. This is the fight that must happen for both our legacies. Saturday night you said you were ready to fight me, so sign the contract and get in the ring, Tyson. The world is waiting and it's on you now. I'm ready."
Comments
comments