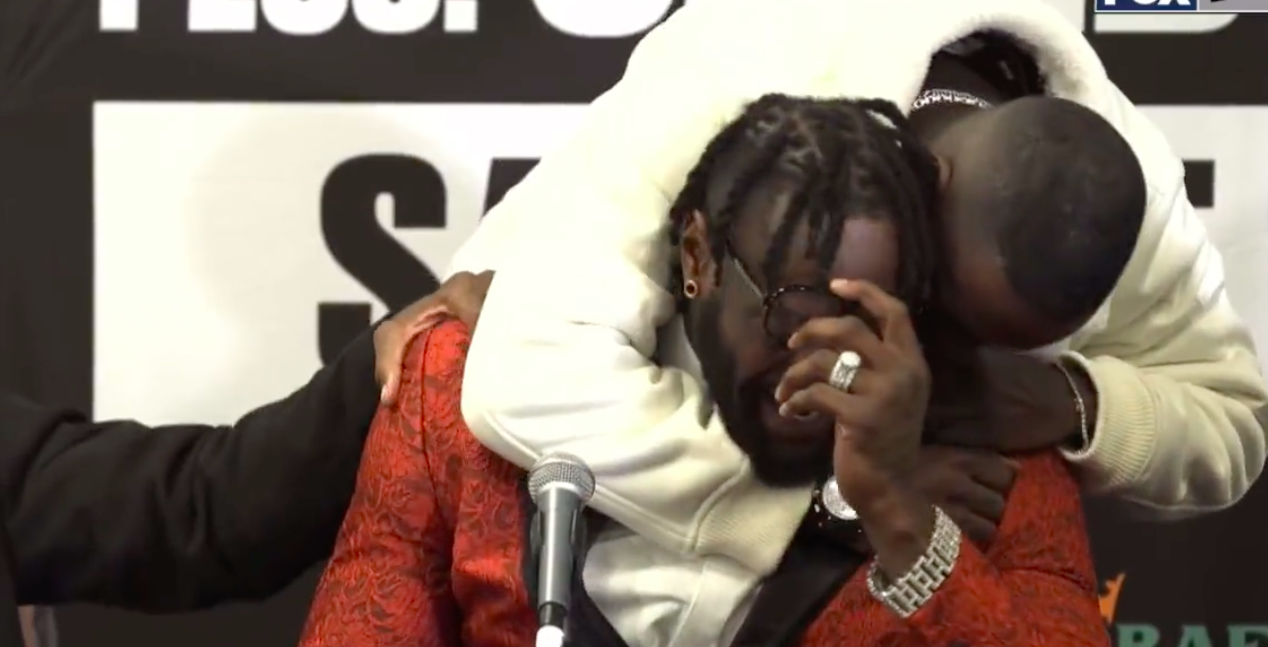 Former WBC heavyweight champion Deontay Wilder made a successful return to the ring on Saturday night, knocking out former training partner Robert Helenius with a savage right hook in the final seconds of the first round.
It was Wilder's first win in the ring since a knockout of Luis Ortiz back in November 2019 and came after suffering a pair of defeats to Tyson Fury, but afterwards the American fighter opened up on his concerns for Helenius as well as his fellow professionals and cited the devastating brain injury suffered in the ring by Prichard Colon in 2015 as something that he and other boxers must always be aware of a potential danger every time they step into the ring.
Deontay Wilder gets emotional and cries at the post-fight presser after his KO of Robert Helenius as he discusses the dangers of boxing and Prichard Colon, who suffered a life-altering brain injury…

[📽️ @PremierBoxing] pic.twitter.com/hEaK9LqSUU

— Michael Benson (@MichaelBensonn) October 16, 2022
"I always have concern for all fighters," Wilder said in the post-fight press conference.
"I'm a big advocate for fighters because like I always say, we get done wrong. A sport is something you play. You don't play this. We risk our lives for you guys' entertainment and I speak that forever. When you have a relationship with a man, when you love a man, and you build a friendship with another man, although he's thousands of miles away from where I am, when you see things like that, you want to come to their aid. I wanted to come to his aid but they wouldn't let me and I understood, because he needed space.
"But my heart goes out to him and I hope he's doing OK and he can be able to go back to his family, because this is a tough business that we're in. This is why I tell people, you've got to respect all fighters. People always go about worrying about records and all this, 'He lost, he's a bum,' and all that. You get your bum ass in there then and let's see who's the bum, really. Because you don't play this. You can't play this.
"We demand respect at all times, every fighter that steps in the ring. I don't care what the record is, I don't care who they are or where they come from, it demands respect, because if not, then you see things like that happen. And then, 'Oh, it's a great knockout,' Yeah, it's a great knockout, it's devastating, making history and stuff like that, but how much is that man going to suffer? He may be alright right now, a little bit, but what about the next day? What about two weeks from now? What about a month from now? Maybe years from now."
Wilder was clearly emotional given the hardships he has faced in his recent career and broke down when he discussed the case of Colon, who remains in a vegetative state following a 2015 fight with Terrel Williams.
"We've seen what happened," Wilder said. "Look at [Colon.] This man ain't have no kids — they don't understand, y'all don't f****** understand what we go through. I don't even know him like that, but I'll always be an advocate for us because this man will never know what it feels like to be somebody's father. That's one of the most precious things in the world, to be somebody's father, but he'll never be nobody's father. This man will never have a natural ability of living again because he got in the ring to support his family."
Comments
comments