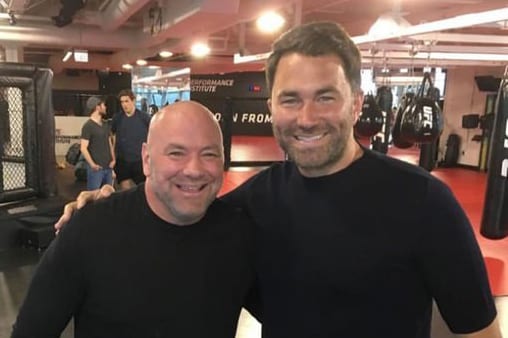 Eddie Hearn has made no secret of his appreciation for the UFC and Dana White.
According to Hearn, who has revitalised boxing in the United Kingdom over the past few years, White has found a way to perfectly create such control in mixed martial arts that he's able to cause fights that fans want to see — something boxing has regularly struggled with.
In Hearn's mind, the only way to properly push boxing is to now attempt to emulate the UFC by forming an overarching organisation that can have a hand in making the big fights that currently elude the sport.
"I think it's a must to take boxing to the levels I want to see it. The sport is fragmented and fans get impatient waiting for certain fights," Hearn said, speaking to The Athletic. "There's that reputation boxing has, particularly among casual fans, that we never get the fights we want to see in boxing. UFC has taken over that mantle. Look at what they've come back with – they've delivered intriguing matchups, 50-50s, deep cards. And they've done it with style. I say it to Dana White: 'We copy a lot of what you do because as far as I'm concerned, you are the trendsetter for combat sports.'
"The only aim I have is to develop an organisation like that for boxing because that's the ultimate. We have to try to have a universal product that isn't fragmented and the only way you can do that is to create an organisation, either by generating enough power and success that it naturally filters through and takes over the sport or you do it via a business that acquires other promotional outfits and creates that entity. I can do it both ways. The fun element of that is to do it myself and to do it naturally. But that takes time. The other version can happen in six months.
"The UFC is a business that was bought for $4 billion – there is no reason why you cannot create the same value business in boxing. It's a bigger sport. It has more history and a much deeper fanbase globally. Bob Arum has made no secret of the fact that he would sell the [Top Rank] if the right buyer was there.
"There are plenty of people out there – big, big players – who are saying, 'Eddie, can we do this?' And it would be incredible, but part of me wants to say, 'I think I'm going to do it anyway.' It's about how quickly can you do it? At the moment it's so hard to get on in the business because no one wants you to get on. I would probably miss it if it was just us – part of the fun is Lou DiBella, Al Haymon, Arum – and all the back and forth. But it's also incredibly frustrating and I think what the UFC have done just proves that it works."
Comments
comments