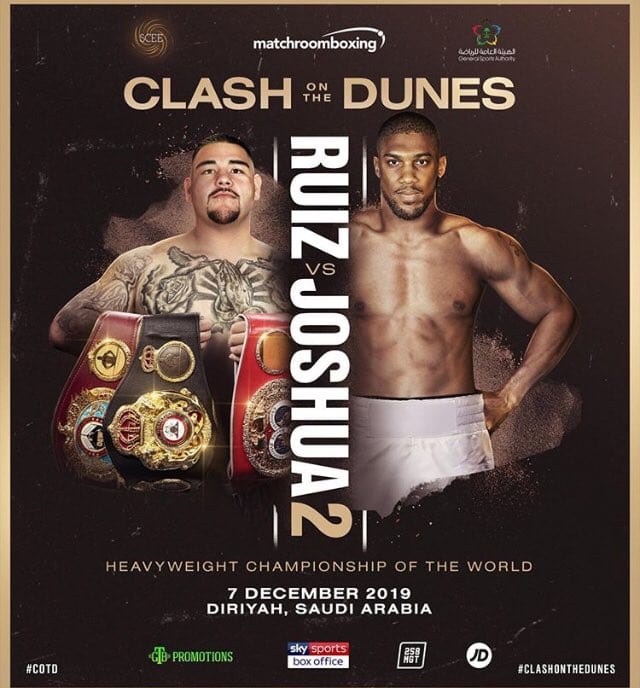 When the rematch between Andy Ruiz and Anthony Joshua was announced, it didn't take long for fans to share their disapproval.
While a second fight between the two heavyweights is as anticipated as any other boxing fight available this year, the location — Saudi Arabia — caught plenty of potential ticket buyers by surprise. According to Joshua's promoter Eddie Hearn, however, it's an opportunity to create history and help build boxing as a sport in the Middle East.
"We had approaches from Saudi Arabia, from Dubai, from Qatar, from Abu Dhabi," Hearn said, speaking with IFL TV. "And there's been numerous conversations in the past about staging events in that region.
"We have to realize that there is another world out there outside of Cardiff and Madison Square Garden, and we have an obligation to grow the sport of boxing to new areas and regions. This event could change boxing forever. If Saudi Arabia are going to invest in these kinds of fights, with the population that they have and the potential to grow the sport, you could be seeing a big change in the dynamics of the sport."
Indeed, while Hearn acknowledges the criticism will continue to come his way, he believes that could end up helping the end result with more eyes on the product.
"This is such a huge occasion for boxing, an iconic moment," said Hearn. "With the response that we've seen, mainly good and some negative, I guarantee you with curiosity the whole world will be watching this fight."
Ruiz vs. Joshua 2 takes place on December 7 in Diriyah, Saudi Arabia.
Comments
comments