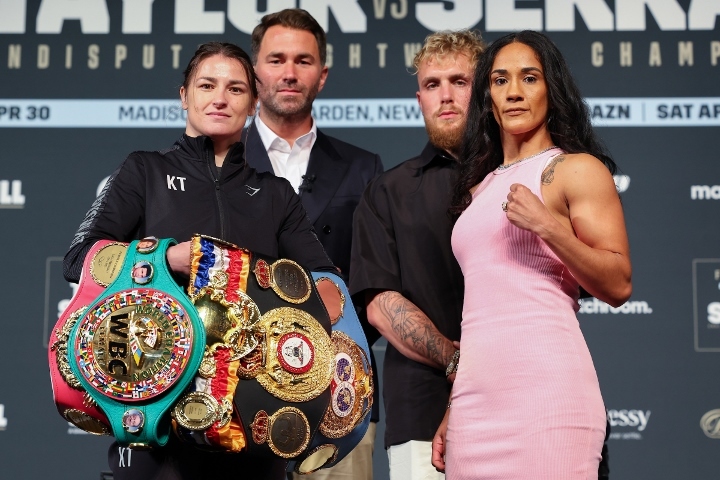 Despite saying in the immediate aftermath of their classic fight in April that they would likely accept an offer to travel to Ireland for an historic rematch, it seems Amanda Serrano's team have cooled their interest in traveling to Katie Taylor's hometown for another crack at the champ.
Serrano's promoter Jake Paul had suggested that it would be 'fair' for Serrano to travel to Ireland to take on Taylor once again after the Irish star encamped to New York, the city where the Puerto Rico native Serrano grew up, for their first fight. But with a massive sequel reportedly being lined up to take place in the 80,000+ capacity Croke Park being discussed, it seems that talks have hit an impasse.
"They don't want that fight, unfortunately," said Hearn to Pro Boxing Fans when probed on the matter. "I mean we've spoken to  Jake Paul's team and they don't want to go to Ireland. They don't really want the rematch. It's kind of like, regardless of the offer, 'we don't want to do the rematch'."

"It's very disappointing, because I love that fight and I think it's a great fight and such a close fight. It doesn't look like it's a fight that unfortunately Amanda Serrano wants."

Attention will now likely turn to other opponents, with both Holly Holm and Cris Cyborg being mentioned as potential challenges for Taylor in what would likely be the biggest combat sports event ever to take place in Ireland.
Comments
comments