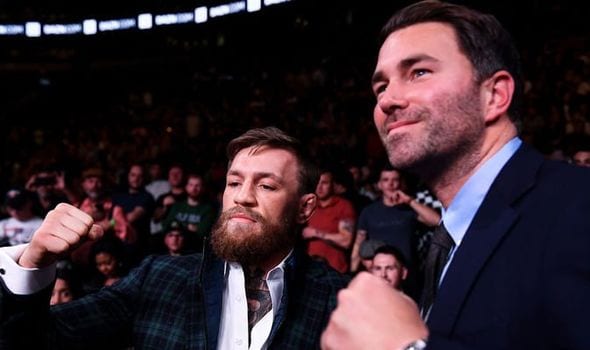 Earlier this week, Eddie Hearn was interviewed and asked if he had any interest in promoting Conor McGregor should the Irishman head back into boxing. The answer was an emphatic yes.
Having seen the comments, McGregor took to his social media to make one small request to the promoter. Want to work with him? Show how much you want it.
Dance for me Eddie. https://t.co/pJEd3X4kQM

— Conor McGregor (@TheNotoriousMMA) October 4, 2019
According to Hearn, that's absolutely no problem.
"I dunno really," Hearn said, speaking with iFL TV. "When he says, 'Dance for me Eddie', is that a good thing or a bad thing? I've asked a few people, they went, 'Nah that's good — yeah, Eddie, dance for me'. I'll do whatever you want, mate. I will dance for Conor. No problem. I'll dance for Conor all day. Just come sign with Matchroom and I'll dance for you all day.
"It's quite amusing. It's like one of those things where you look at your phone, see all the notifications and think oh shit, what's happened now. Conor McGregor's tweeted about you. … I said he's a legend. He is. I dunno, I'm guessing he's going back to MMA. Whatever he's involved with, any chance to be associated with him in his promotion.. it would be a dream to promote him."
–
Comments
comments