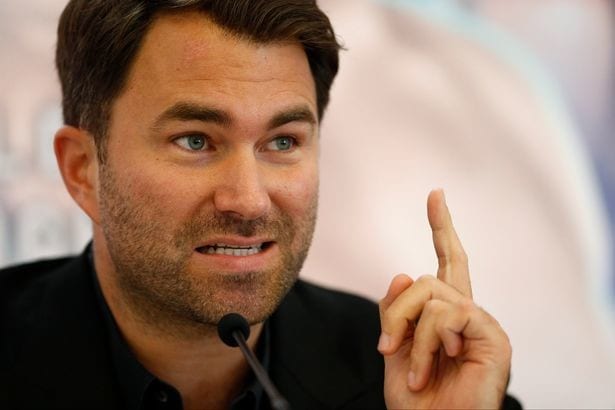 Eddie Hearn, promoter of Anthony Joshua, says it's now time to cut the prolonged negotiations and agree to a 50/50 split with both Deontay Wilder and Tyson Fury.
In the past, Joshua and his team have felt that, with multiple world titles in their position, they should have commanded the lion's share of any contest had between them and the other two superstars in the heavyweight division.
Now, with all three fighters bigger than they've ever been, and with the Andy Ruiz Jr. defeat offering a stark reminder that anything can happen when big men swing punches, Hearn says there's no longer any point in trying to find a selfish deal.
"We have to try and make that happen," Hearn said, speaking with Sky Sports. "Right now, the fight that Anthony Joshua wants is the winner of Wilder and Fury. We've been there before. Both guys have turned down 60-40 for that fight and now we have no other option, but to offer them 50-50, because the fight will never happen, subject to the boss giving the thumbs up, which I think he knows that's the way to make this fight."
Interestingly, Hearn believes he already has the backer to be able to make Joshua and whomever wins the upcoming Wilder vs. Fury rematch more money than has ever been on the table.
"We have a huge site offer in place for that fight to take place," Hearn said "A big option. We have a partnership out there in Saudi Arabia. They put the money up for the Andy Ruiz fight. Everything they promised, they delivered. They want this fight bad and when they've got that kind of attitude and mentality, it's going to be difficult to beat."
Comments
comments