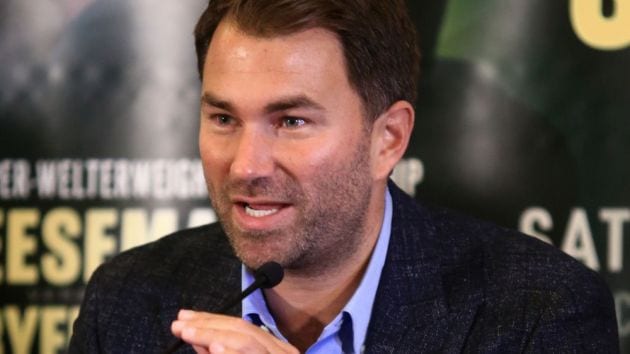 Eddie Hearn has labelled the reported pay-per-view sales seen by Deontay Wilder vs. Tyson Fury II as "disastrous."
It's been said by a number of industry sources that last Saturday's rematch between the two heavyweights garnered anywhere from 750,000-850,000 buys on PPV — a stellar achievement in today's market, but still some way from the desired breaking of 1,000,000 buys those involved were hoping for.
The fight exceeded initial projections, but there was hope during fight week, with the ESPN/FOX machine in full swing, that the fight would surpass 1 million https://t.co/c1mIVKWOhq

— Mike Coppinger (@MikeCoppinger) February 27, 2020
According to Hearn, while the numbers will be a disappointment to the promoters involved, it's also the sign of a change in how much cash consumers are willing to part with to watch fights.
"Exactly the number I said it would do, I said 700,000/800,000," Hearn said, speaking with Boxing Social. "Disastrous for them, because they were budgeting 1.1 million [buys] to break even, and a little bit disastrous for Fox and ESPN understanding that most of those numbers came from streaming capacity. The problem is people are starting to realise that $80 for a pay-per-view is too much money — especially when there's no undercard. You can't just rob people.
"You can just every now and again walk up to them, tickle their pockets a little bit and you might find a tenner in there or something like that. You can't go into their homes, open their drawers, empty their jewellery, and run off into the night. It's one thing asking the public to pay, but it's another thing taking liberties. And $80 is a liberty. It's a liberty.
"Arum said it was going to do 2 million [buys]. So, a little bit out," Hearn continued. "But to set a business model to break even at 1.1 million is madness. So someone has done their bollocks on what is supposed to be the biggest fight of the year. Terrible business. I just think it's a sign of the times where people are streaming more, and want more value for money."
Comments
comments