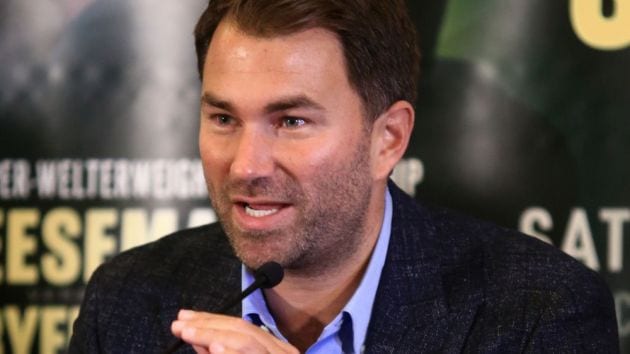 After Dana White reaffirmed his intention of getting into boxing in a big way earlier this year, many have speculated how and in what form we could see the UFC boss attempt make his mark.
For the most part, White has remained coy about his plans, other than sharing his desire to see the big names in boxing fight each other with the politics removed, but reports last month suggested White and UFC owners Endeavour (in the form of Ari Emmanuel) could be looking to purchase or invest in the Premier Boxing Champions, which is run by boxing legend Al Haymon.
While those rumours haven't really officially been commented on, they are apparently strong enough for other boxing promoters to take note, including the UK's Eddie Hearn, who met with White during a trip to Las Vegas earlier this year.
"I think that we're in a moment where there is a lot of interest from a lot of investment funds, or sports media companies to make a move in fight sports," Hearn said, speaking in an interview with Boxing Social. "So anybody with a good brand and a good business is a target for a takeover, buyout, investment, etcetera. So PBC, which has developed a strong brand — although doesn't actually have promotional contract with fighters — could be a potential target.
"I've heard the rumours … I don't know if they're happening, I heard them six months ago. It wouldn't surprise me. Like I said, these big promotional companies seem to be sexy at the moment for big investment funds or people who want to make a move in a sport or take over a sport etcetera, etcetera."
And, should White follow through with his ambitious boxing plans, Hearn says has absolutely no qualms with the sudden arrival of a new contender.
"Absolutely, one hundred percent [I'd welcome him into the sport]," Hearn said. "Why not? Anyone who says no is only scared or short sighted. Dana White's a big personality, he's a very intelligent guy, he's a good promoter. I think he'll get the shock of his life coming into boxing and seeing how difficult it is compared to the UFC in terms of making fights. But I think if he came in, it'll be great for boxing."
–
Comments
comments