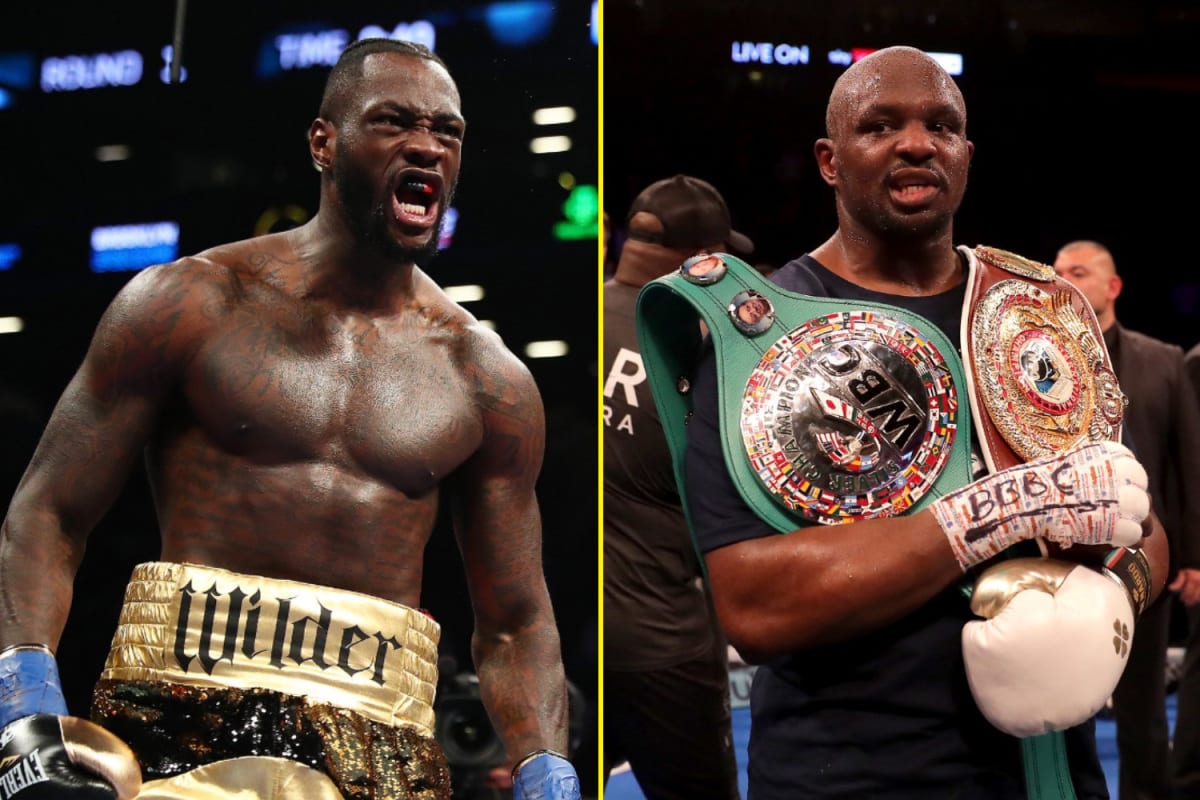 Dillian Whyte seems unfazed by Deontay Wilder's recent callout.
The former heavyweight champion, who says he's chasing a third fight with Tyson Fury through the legal system, pointed to Whyte as a preferred opponent because of their personal animosty. The two men have been going verbally back and forth for months, but are yet to trade punches in the ring.
Whyte, it seems, isn't taking the challenge too seriously.
"His crack money's run out, he needs money for crack," Whyte said, speaking to iFLTV. "He needs money for crack. His crack money's run out. I know he's thinking, 'Raa, where can I get the most money to tide for me over for the next year or two so I can support my crack habit?' That's all it is.
"He ain't fighting Joshua or Fury, so where's he gonna get his next big payout for his crack habit? Me. Crack money run dry."
Whyte has long pursued a fight with the American, but until latelyhad yet to truly get a response from Wilder, with negotiations failing to get far when Whyte's management previously tried to organise the bout.
That's not to say Whyte isn't opposed to trying to get it across the mark and get it done.
"I would love to bash that guy's head in. It's funny how he ain't got the trinket anymore, he wants to fight me after for three years I was number one," Whyte said. "Mandatory challenger for three years. I offered him more money than anyone else outside the Joshua fight. He took the Tyson Fury fight voluntary twice because he thought Fury has been out for three years, Fury put on a hundred kilos and he thought, 'Ah this is easy pickings', and then Fury bashed his head in.
"… I'd love to punch him straight in his vagina. I would love to. I would love to lubricate his vagina for him. Lubricant baby, let's go."
And if you're still dubious as to how much Whyte doesn't like Wilder…
"Deontay Wilder is a cunt, man. He's a cunt. He's just a cunt. He's just a cunt. He's a cunt. He's a real piece of shit. Real piece of shit. I only wanna fight him because I don't like him," said Whyte. "He's a real piece of shit. He's only had two pay-per-view fights ever, because of Tyson Fury, not because of him. We was offering him crazy money, Eddie [Hearn] even offered him if he beat me, he got to fight Joshua, he didn't take it. They said Joshua offered him almost a hundred million, he didn't take it, the guy's coward.
"He doesn't want to fight no one good. He thinks, 'Ah if I cherry-pick Tyson Fury because he's been off for three years, it'll add some credibility to my record' and then he got skull dented. Then he said it was the black history costume he wore for black history month was too heavy, then he said Mark Breland poisoned him, then he said Tyson Fury had a horseshoe in the glove — how do you put a horseshoe in your glove — then he said my skull was dented, then he said my ear was perforated.
"It's mad. It's a bit too much man, he needs to chill. He needs a hot drink and a blanket and lay down for a minute. Lay down. Have a hot drink and calm down."
–
Comments
comments