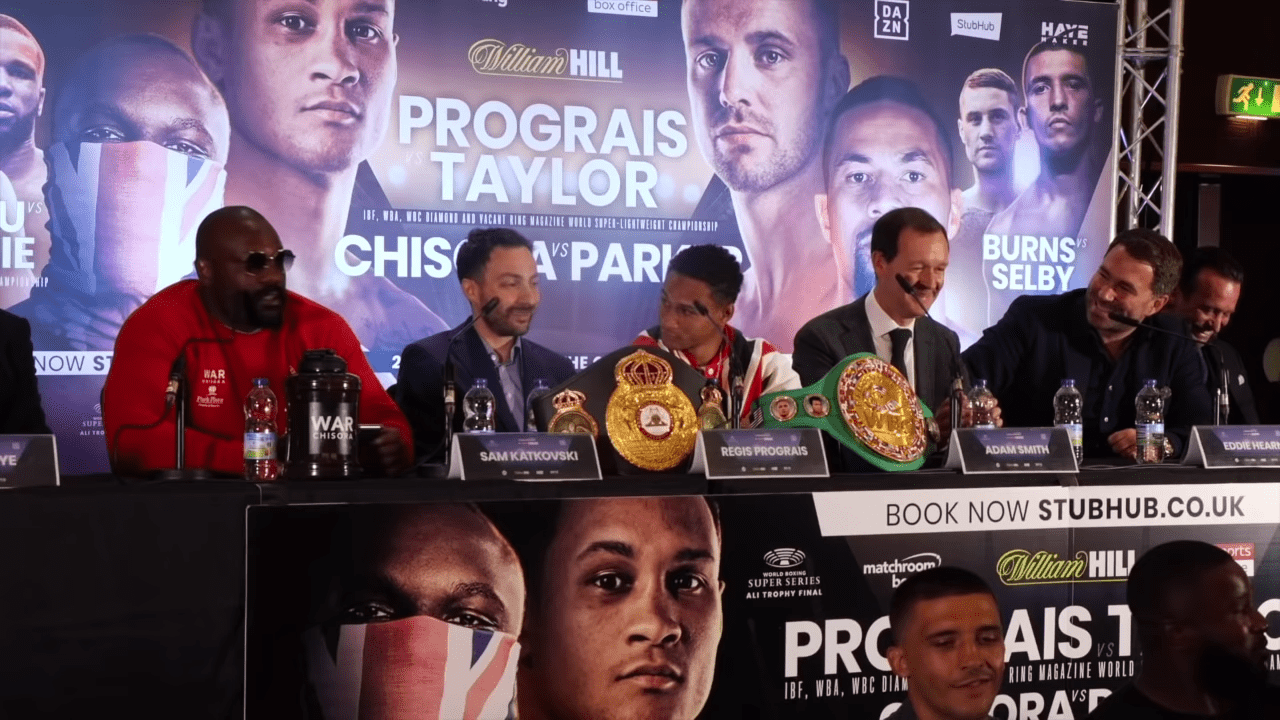 Eddie Hearn might be considered something of a charmer in boxing circles, but it seems Dereck Chisora has had enough of dealings with him.
Chisora is set to feature on Hearn's Matchroom Boxing show in October, and finds himself facing Joseph Parker as a co-main event to a super lightweight unification fight between Josh Taylor and Regis Prograis.
At a press conference to discuss the event today, however, Chisora exploded at Hearn, apparently furious about the decision to have him and Parker not top the card.
"I'm not going to sell out the O2 for those guys to be the main event," Chisora said. "I'm not going to be chief support to these guys, we need to change that. "I'm bringing war so I'm not going to be chief support, simple as. These guys wouldn't sell box office by themselves, so fuck that. So either you give me main event or pull me out of the fucking show.
"You're trying to bombard me, you want me to sell it out to my London crowd, my London fans, and then you want to put these little guys, nobody knows about, on my show and then try and mug me off. Fuck that. I'm being serious. You know this is not right."
Chisora went further, blasting his fellow boxers and stating that fans didn't care about the lighter weights now heavyweight boxing has found a resurgence in recent years.
"The fucking Muhammad Ali trophy? Nobody gives a fuck about it no more. No-one gives a fuck about little guys anymore. They only give a fuck about the heavyweight game, the big guys, the top 10 big guys. Boxing right now is thriving on the heavyweights. So for you to try and give me the chief support on my own bill, that's bollocks."
At that point, Chisora directed his attention to Hearn and Sky Sports' Adam Smith, demanding to know if his bout would be changed to the main event.
"You're not answering me, and I'm gonna go fucking ballistic now," he said. "I want more money. I'm not selling out the O2 for these guys to come and take my fans. No. If that's the case, pull me out of it and then it won't be a box office. I'm tired of selling your shows and not making any money, so give me some of that fucking money you're making and let me put it in my pocket.
"We're not going to get on with it until you tell me, am I going to be the main event? If I'm not, give me more money and then we can get to business. I'm sorry for doing this right now but I feel like you're just fucking me with no Vaseline. That is it."
Eventually, Chisora stormed off stage… and then posted this tweet.
F…k Vaseline #warchisora pic.twitter.com/BXgZdgwx8d

— Derek Chisora 🥊 (@DerekWarChisora) September 9, 2019
–
Comments
comments