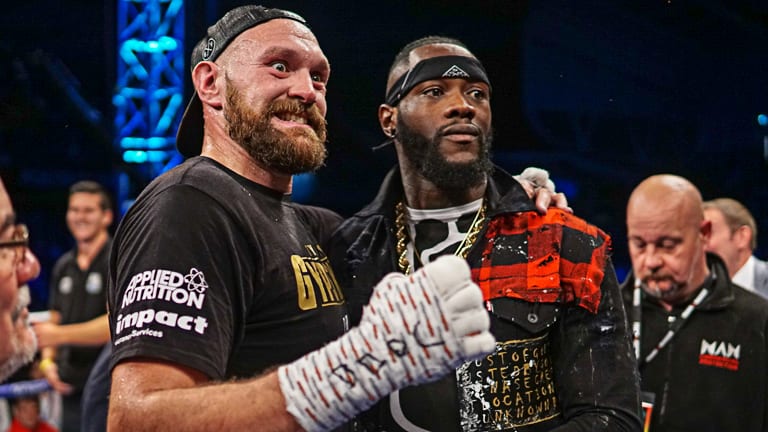 Deontay Wilder says Tyson Fury has a proven track record of being a cheater, and that's why he feels so calm in accusing the new world champion.
Wilder's various reasons for losing to Fury in February are well documented, but it seems despite the large amount of backlash the former champ is receiving, he's not backing down with his belief that Fury manipulated the gloves he wore on fight night, and that the referee deliberately cost Wilder the win.
"He cheated. He flat out cheated," Wilder said, speaking on the Last Stand Podcast. "That wasn't the best man, that was a coward of a man. He got a long reputation of cheating, and this right here is nothing less. He's known. He's a known cheater, so if you're known to be a known cheater, why you gonna stop now? You know the Gypsies believe if they have an opportunity to cheat and they don't cheat, they consider you to be a sucker.
"We know time and time again, you can go back through the history and the rap sheet fo cheating, cheating and cheating consistently. even with the Klitschko fight, cheating and cheating. This make it no better. He definitely wasn't the better man at that fight and it's sad that I'm great in this sport that they have to cheat me to beat me. It makes me more powerful, and gonna make my legacy more stronger than what it is.
"I haven't yet heard a valid proof of how gloves keep a smushed in form. How gloves flap all the way back. Why your hands in the bottom of the glove? Why did my ear have scratches deep inside of my ear? Because of your nails. There's so many different facts and proof that we have, but it just shows the greatness of me."
As of right now, Wilder and his team are taking Fury's side to a mediator to see if the language in their contract will enforce a third fight or if the rematch clause has truly expired. The move has stopped Fury from competing on December 5 as previously planned.
–
Comments
comments