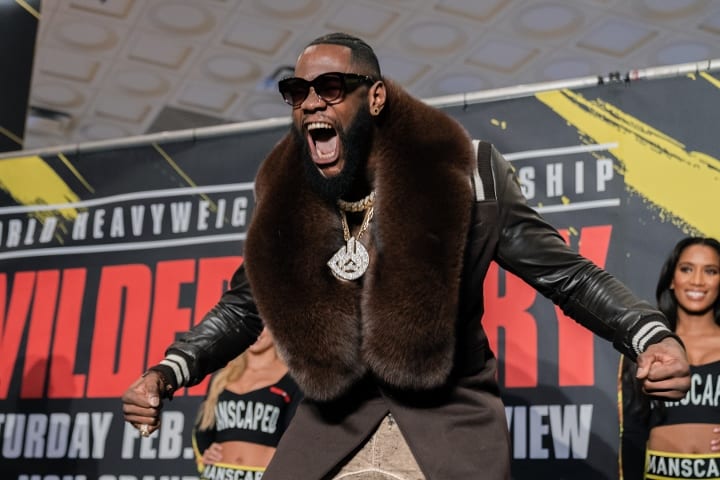 Deontay Wilder is standing by his (many) excuses for the loss to Tyson Fury in February of last year.
And, by doing so, he continues to embarrass himself.
To put it into perspective, since that night in Las Vegas, the former WBC heavyweight champion has pointed to the following as reasons for his defeat:
– Ring walk costume was too heavy.
– His water was spiked.
– Referee Kenny Bayless was favouring Fury.
– Mark Breland threw in the towel due to being in cahoots with Fury's team.
– Fury's gloves were tampered with so Fury's bare-knuckles could connect on Wilder.
– Fury had an egg weight in his gloves.
– Wilder's bicep was injured leading up to the fight.
‼️ WOW. Deontay Wilder has now released this video message to Tyson Fury, accusing him of cheating in their fights…

[📽️ @BronzeBomber] pic.twitter.com/ovNPL7Xt6I

— Michael Benson (@MichaelBensonn) October 31, 2020
And yet despite all those concerning conspiracies, Wilder finds himself scheduled to face Fury for a third time on July 24, and remains certain he'll emerge victorious this time around. If you thought those reasons listed above would fade away, and Wilder would instead put that behind him to focus on revenge, today the American put that to bed by once again going on a rant to stand by his former accusations.
"You can't not see that," Wilder said, speaking on the Premier Boxing Instagram earlier. "Gloves do not bend. Your wrist can't bend unless you're double jointed or something. How the hell it bend at a 90 degree angle? … They couldn't even knock me out even under that juju. I was under some juju, they couldn't even knock me out. They couldn't even keep me down. Like I said, it took a disloyal trainer to throw the towel in."
Ironically enough, those comments came from Wilder on the exact same day as his manager, Shelly Finkel, said his fighter would be putting that stuff to one side.
I think he just believed that there was no way that Fury could beat him. It disrupted his equilibrium, I guess, is the best way to say it," Shelly Finkel said to Sky Sports. "He had a lot of things he thought about. I think he should not have said them. He did, he meant them, but now he's more, 'Okay, now I've got to prove it … I can't talk,' and that's what he's going to do."
Not the first time Wilder and his management have appeared on different pages than the rest of the world.
It is fair to say though, that this isn't the first time we've seen it in boxing. When he lost to Muhammad Ali, George Foreman — another titan who could render any man unconscious — went on a similar excuse rampage. Indeed, the heavyweight legend acknowledged as such after Wilder's public forays had garnered plenty of criticism from across the sport.
"When I lost to Muhammad Ali in Africa all those years back, the ropes were loose, someone put something in my water, it was too early in the morning – the excuses went on," Foreman told iFL TV. "You've got to have excuses when you lose, especially when you're undefeated. You can't just say, "I lost". You can't say that."
So, there is some precedent. Unfortunately for Wilder when compared to Foreman, however, we live in the age of media, and excuses are no longer forgotten after they fade from the print newspaper. A huge part of this third fight, especially with Wilder's reassertions today, will be based around the cacophony of bollocks spouted ever since the second.
What does it all mean then?
Well, in a way, Wilder has managed to up the stakes even further for himself.
Should the American win, something that will be a possibility until his old age thanks to his inhumane power, then there will be an audience (Chance the Rapper, for instance) who revisit and believe all of Wilder's allegations forever more. Of course Fury cheated, they'll say. Wilder did look on unsteady legs from the off, they'll add.
In that sense, the former champion has all the retribution he could desire at his fingertips. Win and be vindicated by your audience in a way few other boxers have managed in history.
But lose…
Should Wilder lose to Fury as he did the second fight. Should he be cast aside after yet another trouncing, a one-sided mauling from beginning to end, then not only will he be the heavyweight great who was exposed once he met a true challenge, he'll be the laughing stock he clearly fears to be.
The man who accused the sport of attempting to tear him down, found out to be second best.
It goes down in Las Vegas, and Wilder's rolling the dice.
Comments
comments