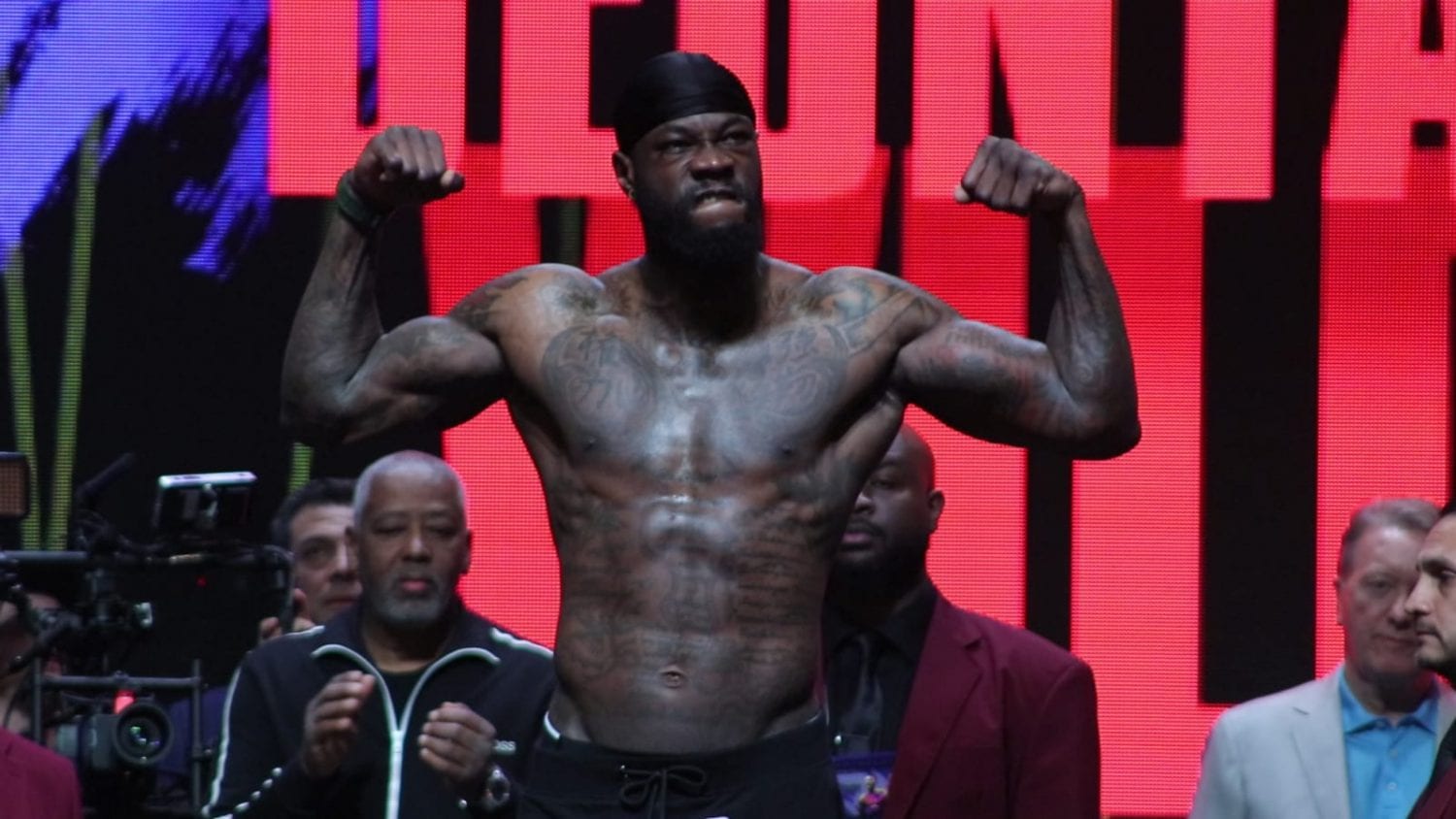 If Tyson Fury doesn't arrange his 'Battle of Britain' boxing match with rival Anthony Joshua, Deontay Wilder says that he would be more than happy to step in. 
Wilder returns to the ring this weekend in New York where he will take on the Swedish-Finnish heavyweight Robert Helenius in what will be his first match since he was knocked out in the eleventh-round of his trilogy bout with Fury in Las Vegas a year ago. The 36-year-old, who has only been defeated by Fury in his 45-fight professional career, has set his sights on regaining a world heavyweight boxing title (or preferably several of them), and has identified Joshua as someone he must go through to achieve that goal.
Representatives of both Fury and Joshua remain locked in talks regarding a supposed December 3 fight between the pair, though hopes appear to be fading that a deal could be struck for the fight — with Dereck Chisora reportedly standing by as another option for Fury should a contract not be signed.
But for Wilder, the potential of a fight with Joshua in Africa is something which he says interests him greatly.
"I would love to do that fight in Africa," Wilder said in an interview with BBC Sport. "It's still the number one fight in the world for everyone. Everywhere I go, people always talk about me versus Joshua. We both have roots from there.
"I think it would be an amazing place to have it, to go back home. To go back to the motherland. A continent full of our people. I can just see that being an amazing fight, win, lose or draw. I think we'll get the respect and love from all the people over there.
While Wilder adds that a deal between he and Joshua isn't near, he says that his ambition to fight the Briton is far from idle talk and that it is something he would like to get done sooner rather than later.
"We're serious and we just need them to be serious as well. We tried to make the fight and it didn't happen. It's a new day and time. All things are possible," he said.
He added that Joshua's recent two-fight series with Oleksandr Usyk showed more than a few chinks in the Englishman's armour which he feels that his prodigious power could exploit.
"I just felt he was very cautious," he said of Joshua's recent performances. "For me it looks like he has a real serious stamina problem. I feel like he didn't want to exchange a lot because of that. It allowed him to fall back a little bit and not allow him to throw certain punches and combinations. I think if he fixed that you would see a better Joshua, not just in that fight but fights to come.
"I know if he's able to get everything together, stamina and all that, I think you'll see a different Anthony Joshua."
Comments
comments