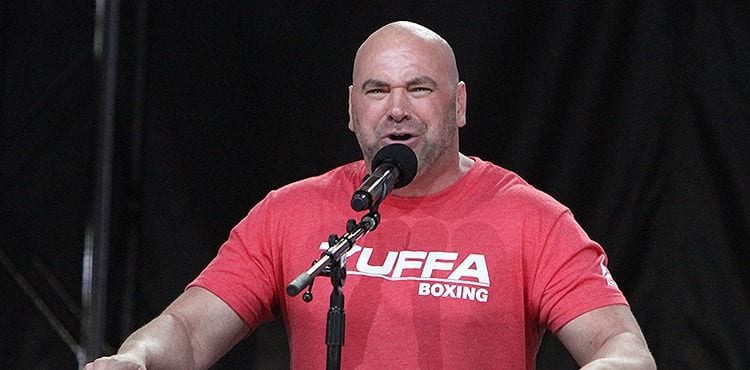 A couple of years ago, around the time of Conor McGregor's boxing match with Floyd Mayweather, odds are you saw UFC president Dana White flaunting a 'Zuffa Boxing' t-shirt.
The implication was the White was interested in getting involved in boxing promotion. He would subsequently confirm this himself but in the last 24 months, things appear to have slowed somewhat. Well, according to comments White made while unveiling the new UFC Apex facility in Las Vegas this week, it might just be time to ease up on the brakes.
But how would the UFC chief navigate the waters of the decades-old boxing industry? He says he would make a few changes.
"If you look at the way that it was in the 80s, 90s, even the early 2000s, you had [a few] guys that were [making money]," White said to the media, including The Mac Life (transcript via BJPenn.com).
"You had Floyd [Mayweather], you had [Manny] Pacquiao, [Oscar] Del La Hoya, maybe a couple other guys. But boxing as a whole, you're talking about tons of fighters that weren't making big money and weren't in big fights. I think that the sport could be so much more."
Of course, White has history in injecting new blood into a stale enterprise. It was he (along with the Fertitta brothers) who purchased the UFC in 2001, saving it — and some say the sport as a whole — from the vacuum of bankruptcy. This model, he says, could also be applied to boxing.
"If you look at what [the UFC has] built over the last 20 years, and our events, and how many events we're doing — we're doing 42 events a year," White continued. "Every time you go to one of our events, they're either sold out or they break the record for ticket sales. This year we're going to break the record for ticket sales, ever, in UFC history.
"There are more tickets being sold this year than ever before in the history of the company. We continue to put on these fights, people come and see them. They're on TV, free, they're on ESPN, which everybody has. And we're still doing million-dollar gates on these things without the Mayweathers and those types of fights.
"You could build a business [like that] with boxing — build a real business. You've just got to break it and rebuild it."
So, what are the first steps in this enterprise? Ari Emanuel of Endeavor (formerly WME-IMG) is understood to be in negotiations with Al Haymon's team to purchase Premier Boxing Champions — a move which would immediately give them a brand along with a proven stable of fighters. Reports suggest that Haymon would remain involved in the entity should the transaction occur.
Comments
comments