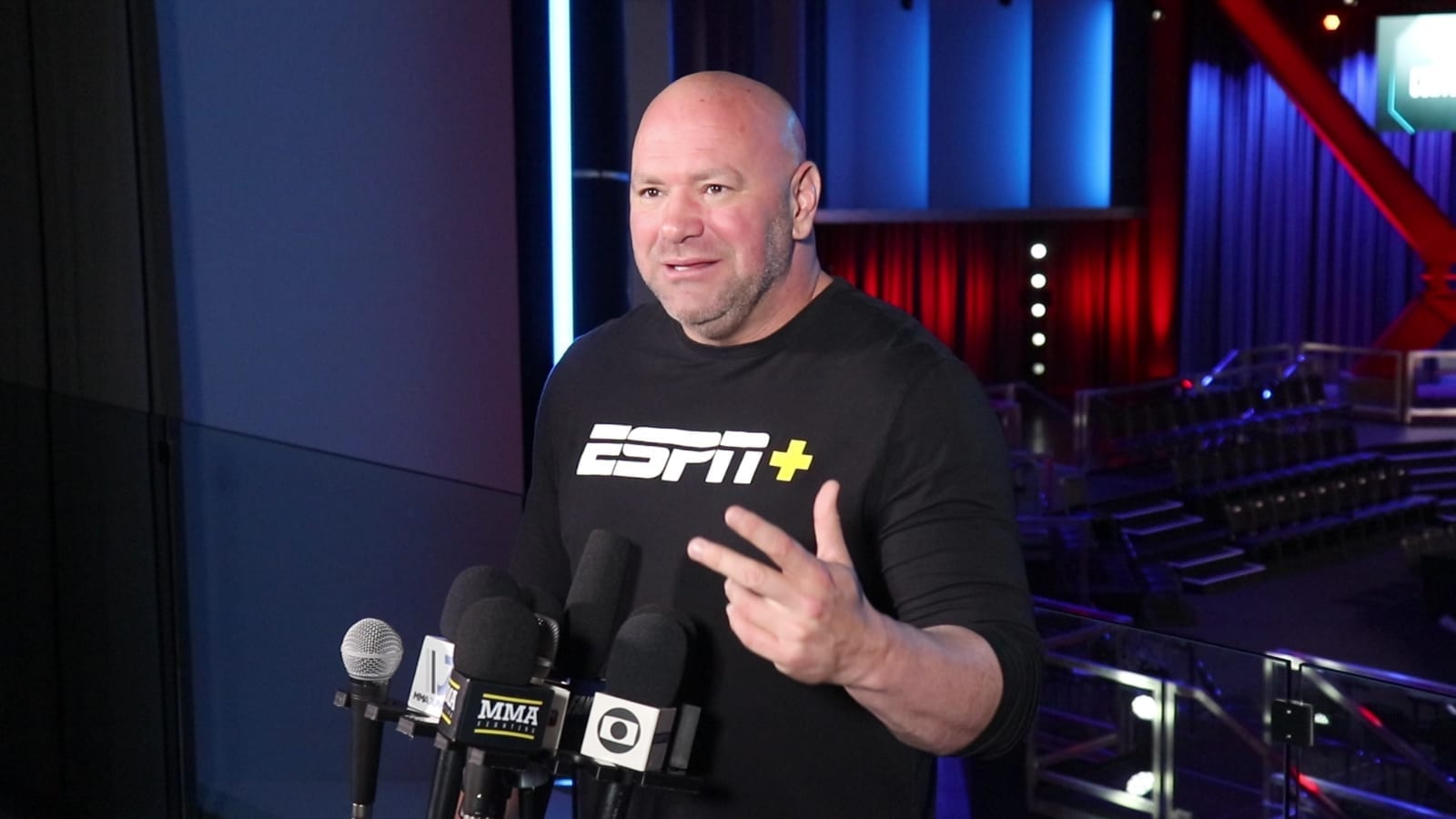 Dana White might be entering the world of boxing with lofty ambitions, but that doesn't mean he's coming in swinging.
The UFC president is expected to announce his moves into the sport of pugilism in the next month, with an as yet unnamed person being brought in to work on the new project full time. And, while White has had plenty of run ins with some of his boxing counterparts (Bob Arum, Oscar De La Hoya), he fully intends on working with other names to make moves forward.
"Everybody is willing to work together and everybody is interested," White said on SiriusXM Boxing. "I'm not acting like I know everything and I'm the guy who's gonna save boxing, I don't know shit. What I know is the system and the model is broken, and it needs to be fixed. I think that you'll be watching it on UFC Fight Pass and we'll have a television deal too.
"I have a really good relationship with Al Haymon, I think Al Haymon's brilliant. I like some of the moves that he's made and some of the things that he's done. I can guarantee you that I'll be working with Al Haymon."
And it's not just Haymon White sees himself aligning with.
"I said some things about Anthony Joshua, that I liked him, he's a good-looking kid, he's got great energy," White said. "I think [Joshua's promoter] Eddie Hearn took me the wrong way, like I was gonna take a run at his guy and all that stuff.
"So I think we kind of got off on the wrong foot, then I met him, we sat down, talked face-to-face and we had a great meeting. He actually toured the facilities out here and I like Eddie Hearn so I definitely think Eddie Hearn and I could work together."
🔊 "I can guarantee you that I'll be working with Al Haymon." – #UFC President Dana White talks future boxing plans with @CommishRandyG & @gerrycooney 🥊🎙️
⬇️⬇️⬇️⬇️⬇️⬇️⬇️⬇️⬇️⬇️⬇️⬇️⬇️⬇️⬇️⬇️⬇️⬇️⬇️⬇️⬇️⬇️⬇️⬇️⬇️⬇️⬇️⬇️ pic.twitter.com/wiJ4s7mvya

— SiriusXM Boxing (@SiriusXMBoxing) October 5, 2019
🔊 "The way I get around it is, I don't recognize them." – #UFC President Dana White on dealing with boxing's sanctioning bodies with Zuffa Boxing. @CommishRandyG @gerrycooney 🥊🎙️
⬇️⬇️⬇️⬇️⬇️⬇️⬇️⬇️⬇️⬇️⬇️⬇️⬇️⬇️⬇️⬇️⬇️⬇️⬇️⬇️⬇️⬇️⬇️⬇️⬇️⬇️⬇️⬇️ pic.twitter.com/lOXiGLoOFj

— SiriusXM Boxing (@SiriusXMBoxing) October 5, 2019
–
Comments
comments