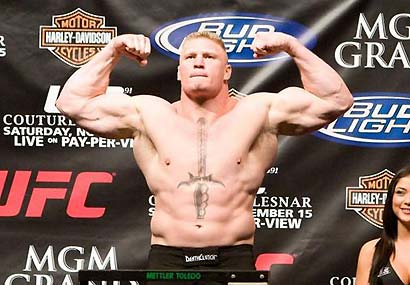 Dana White appears confident that Brock Lesnar will once again sign a deal with the Ultimate Fighting Championship.
Speculation has been rife that Lesnar, whose WWE contract expires in April, might once again trade the squared circle for the octagon, particularly since he was photographed last weekend in Las Vegas with White while sporting a UFC t-shirt.
Now those rumours have moved from smoldering to full on ignition after comments made by White Sirius XM NASCAR Radio on Tuesday.
Asked by host Kevin Harvick if Lesnar what the odds are that Lesnar will once again wear the 4-oz gloves, White responded with "very, very, very good."
"They're very, very, very good." –@ufc President @danawhite to @KevinHarvick on @BrockLesnar's chances of fighting again in UFC. Listen in 👇#HappyHours pic.twitter.com/p8ZCdrR9Kt

— SiriusXM NASCAR Radio (Ch. 90) (@SiriusXMNASCAR) February 28, 2018
— Dana White (@danawhite) February 26, 2018
Lesnar hasn't competed in mixed martial arts since a win against Mark Hunt at UFC 200 in the summer of 2016 — though it was later commuted to a no-contest following a doping violation. Lesnar subsequently announced his retirement from mixed martial arts, so if he does decide to return to the octagon he would be required to serve the remainder of his year-long ban, a period which currently stands at more than 5 months. He would also be obliged to notify USADA (United States Anti-Doping Authority) in order to return to the drug-testing pool.
Whether or not Lesnar is serious about a return to MMA of if he is using this speculation to coax an increased contract offer from the WWE, you can be sure that there is interest from White and WME-IMG in obtaining Lesnar's significant services.
And in the fight business, money talks.
Comments
comments