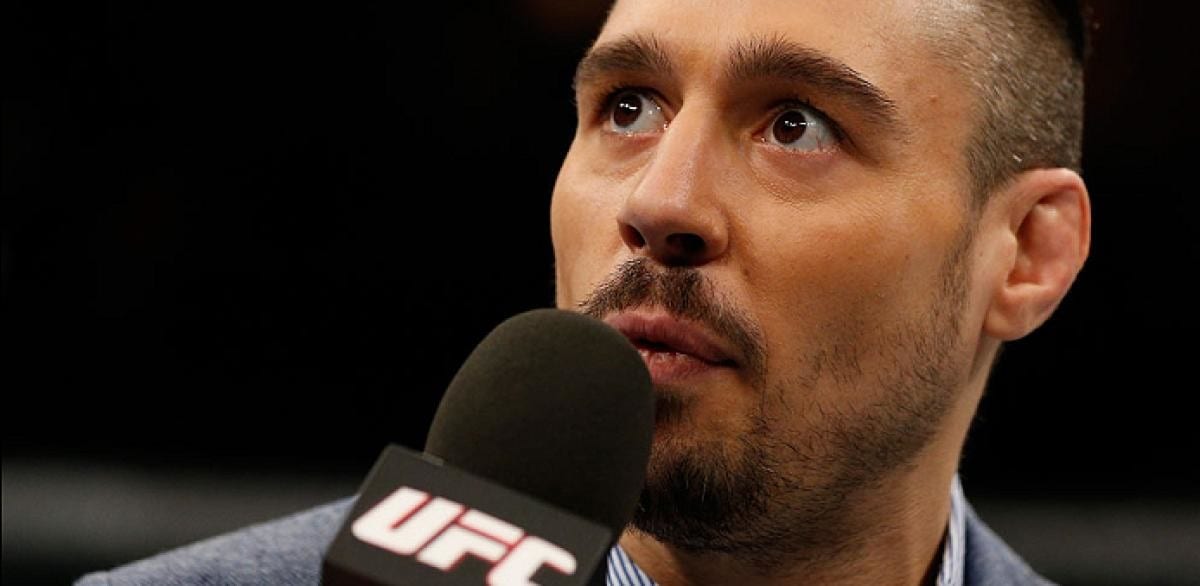 All things, they say, must pass and this is also true for Dan Hardy who recently saw his 14 year association with the company end.
His exit was explained as being down to a disagreement with a UFC staff member, which was thought to be unrelated to his on-air bust-up with referee Herb Dean last year owing to what Hardy saw as a late stoppage in a fight between his compatriot Jai Herbert and the experienced Brazilian fighter Francisco Trinaldo.
'The Outlaw' was granted his release from the UFC in recent weeks, meaning that he is free to continue his fight career elsewhere after being cleared to compete in 2018 after a prolonged hiatus from the sport due to the diagnosis of a rare heart ailment.
"I'd always got this perception that my career within MMA would come to an end, and it would end with the UFC," he explained to MMA Fighting. "I never intended on fighting past a UFC contract. When I was on that four-fight losing streak, and I was considering stepping away, I wasn't thinking of going anywhere else. I was thinking about studying philosophy at university, a complete directional change. I always felt like my career, as far as professional MMA, would start and finish with the UFC.
"But then admittedly, I didn't expect it to continue on so long after me being a fighter. I'd not really considered the idea of being an analyst or commentator. So I'm very thankful for that time and that opportunity. But it's weird, because I'm still very much in professional MMA and do want to be. I love commentating and analysing and training fighters. But now I'm right on the outside of the UFC for the first time in, well, forever.
"Before I was unknown to the UFC, and then I was under UFC contract from 2008, and now I'm just not a part of it at all, with efforts to properly exclude me in every way possible, which feels really odd as well, because I don't feel like any of it is warranted."
View this post on Instagram
Hardy admits that the last year has been an unusual one, and says that is feels unusual that he may well continue his career under a banner other than that of the UFC.
"I don't think it's really quite sunk in yet," he said. "Whenever I visualised myself fighting again, apart from daydreaming about fighting in PRIDE back in the day, my visualisation as a fighter was always in the UFC in the octagon. I spent a good 20 minutes in there before every commentary gig, just kind of walking around and feeling the canvas and stuff. It's a very comfortable place for me now. So the idea of fighting somewhere else, it seems like a bit surreal and alarming.
"But the more RIZIN and ONE and Bellator I watch, we'll see what happens. I know that people are aware and have been in contact. But at the moment I'm not really thinking about it too much, and until someone comes to me and says, 'What about this date and this person,' then I'll kind of stay out of it and let my manager deal with it."
Hardy also stated that the UFC offered him a couple of opponents, including Jim Miller and Joe Lauzon, for a return bout but he says that he just couldn't get on board with the matchmaking on offer.
"If I'm only fighting one or two more fights, I want to want to fight the guy," he said. "There a lot of guys on the roster, and I literally just don't want to punch Joe Lauzon in the face. It's as simple as that. As a fighter and a contractor, I should have some choice in that, I feel, especially at this point in my career, where you know for sure I'm not contending for a belt, and I've said that all the way through. I don't want to be fighting people that are still in the mix, because I respect the mix enough to know that I'm not in it. But either let me fight someone else that's not in the mix, or let me go."
And it seems that he got his wish. Watch this space.
Comments
comments