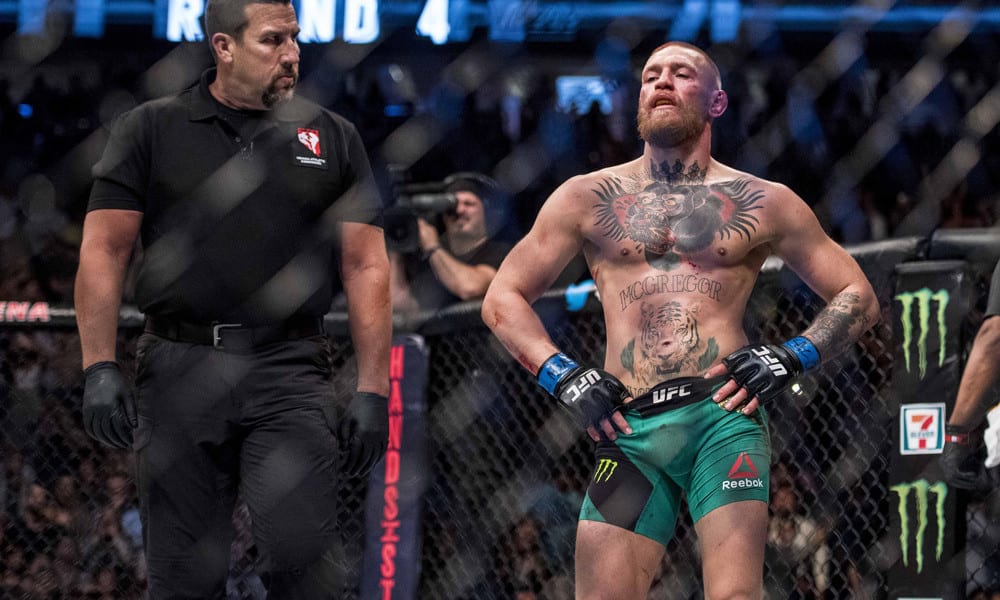 Frankie Edgar is a 'true fighter's fighter'.
These are the words used by Conor McGregor to describe the New Jersey native who was stopped for the first time in his future hall of fame career last weekend at UFC 222 in Las Vegas by rising featherweight star Brian Ortega.
Edgar was slated to fight for the UFC's 145-pound title at this event but an injury suffered by champion Max Holloway in preparation for the bout forced the UFC to shuffle the deck, drafting in the undefeated Ortega to be Edgar's foil at the event. Edgar, a former UFC lightweight champion, had assumed his role as the the division's number one contender but rather that sitting on the sidelines and waiting for the champion to heal up, he accepted a fight with the dangerous Ortega.
Ortega displayed championship credentials of his own against Edgar, stopping him with 16 second remaining in the first round. This marks the first time that the notoriously durable Edgar has been finished in his 29 fight professional career.
And, though he came up short in Las Vegas, Edgar's move to accept the dangerous assignment against Ortega has drawn considerable respect from various MMA circles.
UFC lightweight champion Conor McGregor posted to social media following Edgar's defeat, marking his respect for Edgar and saying that "Frankie's career deserved for that to be against me."
Frankie's career deserved for that to be against me tonight.
Respect Frankie.
Love and respect always!
A true fighters fighter ❤

— Conor McGregor (@TheNotoriousMMA) March 4, 2018
It emerged last week via McGregor and later confirmed by his training partner Artem Lobov that McGregor had offered to replace Max Holloway against Edgar in the UFC 222 main event, though he requested that the fight take place at 165-pounds rather than the 145-pound limit in which Edgar has competed in for the latter part of his career.
Edgar denied that the UFC offered him the fight opposite McGregor, the former UFC featherweight champion who never lost his title in active competition.
Meanwhile, current champion Holloway also took to to social media to vocalize his respect for Edgar.
You had nothing to gain from taking that fight @FrankieEdgar. But you took it you defended what you already earned. There's no belt for sacrificing everything but true fans and Jersey knows no belt can outshine what you bring to the sport. Chin up bratha

— Max Holloway (@BlessedMMA) March 4, 2018
.
Comments
comments